Latest News
Follow us on Twitter @AberdeenshireTS for all the latest scam alerts and news daily.
 You can also visit www.businesscompanion.info for some detailed guidance on the legislation which has been prepared by The Chartered Trading Standards Institute.
Undertakings
In April 2016 the proprietor of a local landscape gardening business gave assurances to Aberdeenshire Council Trading Standards Service that he will adhere to consumer protection legislation. George Philip Knowles trading as Gorgeous Gardens signed undertakings (pdf 74KB) that he won't mislead customers, that he won't take deposits without being able to carry out the work within a reasonable time and that he will carry out services with reasonable care and skill. Allegations have now been made that he may have breached those undertakings and Trading Standards are investigating. Further information can be obtained from the Fraserburgh Trading Standards team.
Unfair terms in Consumer Contracts
 These short, animated videos will help businesses understand more about the law on using unfair terms and conditions with consumers.
https://www.youtube.com/playlist?list=PLJREEEp2I-xe8y6Xl_VXzViZQ3Aj19OFX
You can also visit www.businesscompanion.info for some detailed guidance on the legislation which has been prepared by The Chartered Trading Standards Institute.
Rogue Fish Sellers
 Aberdeenshire Trading Standards would like to make residents aware that rogue mobile fish sellers are currently operating throughout Scotland and may target consumers within Aberdeenshire, particularly the elderly and vulnerable.  Reports indicate that high pressure sale tactics are being used to coerce and bully consumers into making a purchase of excessive quantity, mislabelled or rotting fish, which as well as the obvious financial loss can be a risk to human health.
 Sellers must store and package their products properly so vehicles must be clean, refrigerated and have handwashing facilities.  The seller must also wear protective clothing such as a white coat and gloves.  Pre-packaged fish must be labelled with the name of the fish, use by date, weight, storage conditions, whether smoked, filleted or frozen and the name and address of the packer.  Non pre-packaged fish must be sold by net weight using stamped and accurate equipment.  Prices should also be provided.  If consumers are unable to verify any of these requirements then they should reconsider making a purchase.
Consumers can contact the Scottish Food Crime Hotline on 0800 028 7926 or the Citizens Advice Consumer Helpline on 03454 04 05 06 if they have any concerns or enquiries.
UNSAFE POWER TOOLS FOR SALE IN ABERDEENSHIRE
Local residents and businesses are being warned not to buy power-tools such as 'bargain' generators, chainsaws and power washers from unknown sources. These 'cut-priced' items being offered are often unsafe and are of poor quality warns Aberdeenshire Council. Some of the brand names can also sound similar to popular brands which may be misleading for consumers.
Trading Standards and Police Scotland strongly advise residents and business alike to only buy products from reputable companies and not to buy any goods, especially high risk items such as power tools, from people calling door-to-door or from temporary sites like markets and online buy and sell groups.
Trading Standards offer the following advice: Ask as many questions as possible to check the identity of the seller. Check the product, its packaging and the instructions booklet - poor spelling is a giveaway that the product is unsafe. Check for traceability information, such as the name and contact details of the manufacturer and / or importer. And most importantly don't be taken in by the offer of a 'bargain' - if the price looks too good to be true, then it probably is.
Wilma Urquhart the Trading Standards Manager says "Nobody should agree to buy anything at the doorstep or from sources that they can't later trace. If someone approaches you in your home or workplace and tries to sell you something cheap then just say no. Power tools even when manufactured to the highest standards are dangerous products and should be used with care and diligence. And if they are purchased from an unknown source, often with inadequate instructions, this increases the risk.
She added: "Gangs are known to sell power tools and washers from vehicles, calling on private individuals and businesses. The sellers can be very persuasive but if something goes wrong with a chainsaw while you're using it, then you need to be able to hold somebody to account.
Anyone with information about the sellers can call Trading Standards on 01346 415888 or Police Scotland on 101.
Further information can be obtained from Aled Herbert on 01346 415888 or aled.herbert@aberdeenshire.gov.uk
HMRC SCAM CALLS
Trading standards are warning residents to beware of calls purporting to be from HM Revenue and Customs and advising that the person is under investigation. The calls from number 01143033005 ask the recipient to press 1 to be put through to their case officer.
 Wilma Urquhart, Trading Standards Manager said, 'We have had a number of reports from residents worried that they may be under investigation. I would reassure people that this is a clear scam and they should ignore the call. HMRC would not use this method of contact if they were conducting an investigation and the calls are an attempt to gain personal or bank details.'
 These calls can be reported to Action Fraud at www.actionfraud.police.uk or contact 03454 04 05 06 for further advice.
Scams Awareness Month 2016
Its Scams Awareness Month in July 2016 and Aberdeenshire Trading Standards will be hosting a number of events throughout July in various supermarkets within the Shire to promote the campaign and raise awareness. 
 As well as the usual leaflets, stickers and postcards that residents can take away with them it is also an opportunity for them to come along and have a chat to us.  We will be there to answer questions about current scams but can also provide advice and guidance in relation to any phone calls, emails and postal communications they or a friend or relative are concerned about.
 You will find us at the following supermarkets on the dates noted below:
North
7th July      -  Asda, Fraserburgh (morning only)  
13th July   -   Co-op,Banff (afternoon only)
21st July    -   Morrisons, Peterhead (morning only)
29th July    -   Tesco, Ellon (morning only)  
South
Tues 19th July – Morrison's, Inverurie (morning only)
Friday 22nd July – Scotmid, Laurencekirk (morning/mid-afternoon)
Friday 29th July – Asda, Huntly (morning only)
 We hope to see you soon !!!
BANKING SCAMS – CALL RECORDING SCAM
 Trading Standards would like to make Aberdeenshire consumers and businesses aware of a new twist to the 'banking scam'.  Fraudsters are contacting consumers by text, letter or email claiming to be from their bank and asking them to call the number noted in the communication.  This number however is not a genuine number for the consumers bank.
When the consumer calls the number the fraudster redirects the call to the bank and listens and records the conversation obtaining personal information, banking details, passwords and security answers in the process.  The fraudster will either cut off the consumer and continue with the call themselves or call back at a later date pretending to be the consumer, passing the security checks and successfully removing money from their victims account.
 Consumers are also falling victim to fake sponsored adverts displayed at the top of search engines when surfing on their mobile phones.  These adverts display a phone number purporting to be the genuine customer service number of a bank but they are in fact a call recording number.  The consumer calls this number and the fraudster records the conversation utilising the information obtained for fraudulent purposes as above.
 Always proceed with caution if you receive communication of this type.  Only trusted phone numbers should be used to contact your bank so if a number does not look genuine or you are unsure about it, simply do not call it – you are under NO obligation to do so.  Instead, obtain a genuine number from the bank's website or from a previous bank statement and contact them to double check.  If you are still concerned then visit your bank in person and discuss with a member of staff.
Further advice can be obtained by calling the Citizen's Advice Consumer Service on 03454 04 05 06.  If you have been a victim of a scam you can also report it to Action Fraud at www.actionfraud.police.uk or by calling 0300 123 2040.
Some advice on dealing with the aftermath of flood damage
 Many homeowners have been victims of the recent floods and may not know where to turn for support in dealing with related issues.
Aberdeenshire Council's Trading Standards team, in partnership with Citizens Advice, can provide help and advice on a range of issues following flood damage.
 If your property or possessions are damaged as a result of flooding, or you incur extra expenses, you should make a claim on your insurance. 
If this does not resolve matters or you end up in dispute with your insurance company,  contact the Citizens Advice Consumer Helpline on 03454 04 05 06 in the first instance.
They provide free, impartial advice on your legal rights in the event of a dispute and will refer complaints to trading standards for further help if required.
There is further useful advice about insurance problems on the Citizens Advice website at: https://www.citizensadvice.org.uk/scotland/consumer/insurance/insurance/problems-with-insurance-policies/
If you decide you need repair work carried out on your property which is not covered by insurance, here is some advice;
• Get at least three separate written quotes from local, reputable traders and ask friends or neighbours for help in making a decision. Do not agree to on the spot house repairs without taking advice from other sources first.
• Research, or ask someone else to research, the companies: many rogue traders will use local telephone numbers and false addresses to appear local but are in fact itinerant traders.
• Be very wary of any special offers or warnings that your house is unsafe.
• Don't allow anyone to pressure you into agreeing to have work carried out. If you ask them to leave and they don't, contact the police.
Good neighbours can help stop rogue traders. If you suspect an elderly or vulnerable neighbour may be the victim of a rogue trader, contact Trading Standards as soon as possible.
Aberdeenshire Council's Trading Standards Manager Wilma Urquhart said: "You should be wary of anyone cold-calling you offering home improvements.
"Having your home flooded is distressing enough as it is, don't make it worse by being ripped off."
Sellers of Unsafe 'Legal Highs' Targeted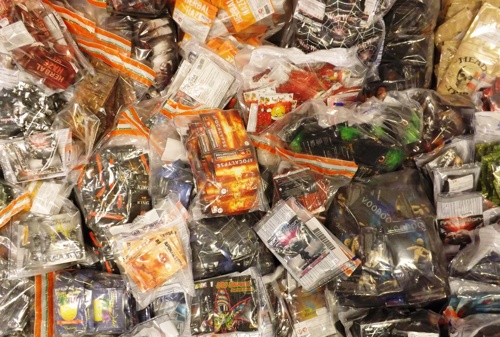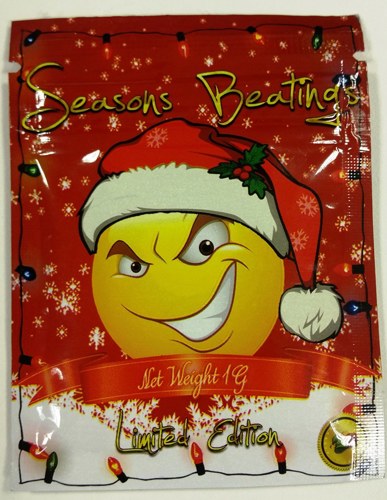 Scotland wide enforcement activity aims to stop sale of so called 'legal highs'
Scottish Trading Standards Services have co-ordinated activity throughout the country to try and put an end to the sale of dangerous new psychoactive substances (NPS) - also controversially known as 'legal highs'.
The action comes after growing evidence shows the harm that unsafe NPS products can cause to people who consume them for their psychoactive effects. In total 53 premises were targeted over 19 local authorities, with 7,323 products seized or sampled worth £146,460
 The campaign, codenamed Operation Alexander, has been endorsed and funded by the Scottish Government and jointly co-ordinated by Trading Standards Scotland and SCOTSS (the Society of Chief Officers for Trading Standards in Scotland).
It comes after evidence that the health harms and social problems caused by NPS has steadily increased in recent years and a clearer picture of the market has been forming. Despite claims of 'Not for Human Consumption' on the packets - sellers are aware their products have no real use other than to be swallowed, smoked, inhaled or injected and are knowingly sold for those purposes.
Investigations suggest head shops and other sellers are making fortunes peddling their dangerous psychoactive compounds, leaving consumers to face the serious risks to their life and health from the untested products that are deliberately designed to mimic the effects of classified drugs such as cocaine, ecstasy, cannabis and LSD. 
Welcoming the Operation, Minister for Community Safety and Legal Affairs, Paul Wheelhouse said: "The number of adults reporting drug use is continuing to fall while drug taking among young people is at its lowest level in a decade. This news is to be welcomed, however, there is still a persistent minority of people who continue to purchase and consume New Psychoactive Substance, often misleadingly referred to as 'legal highs'.
"We are currently working closely with the UK Government on the detail of the UK-wide Psychoactive Substances Bill due to be introduced next year which will make it illegal to sell any kind of NPS.
"However it is vital that we continue to do all we can to tackle this issue in the meantime to ensure those who are at risk of harms caused by NPS are protected. That is why we are determined to support initiatives that stamp out the sale of these harmful substances and protect consumers and I am extremely grateful to Scottish Trading Standards Services and Police Scotland for the work they have undertaken to date and am very encouraged to hear about the co-ordinated joint activity that is being taken forward."
Fiona Richardson, Chief Officer of Trading Standards Scotland added: "Trading Standards Scotland are pleased that a co-ordinated response to NPS has been carried out across the country. 
"This issue has been deemed a national priority and our officers have been working closely with the Scottish Government to remove barriers that may hinder successful enforcement actions. It reinforces the message that unsafe products are not 'legal'.
"We will collate the findings from the project to allow the Scottish Government to have a clearer picture of the remaining market for NPS when a full ban comes in next year.  The Operation will also allow us to share best practice and intelligence across Trading Standards Services and with partners such as Police Scotland and the Home Office's Forensic Early Warning System".
Gordon Robb, Chair of SCOTSS and Trading Standards Manager at Highland Council, added: "Local authorities embraced this opportunity to implement co-ordinated action against the sellers of NPS throughout Scotland. 
The safety of consumers is our foremost consideration, and we welcome liaison with our partners such as Trading Standards Scotland, Police Scotland and the Scottish Government in the fight against this scourge on our local communities.  We will continue to take robust enforcement action against the suppliers of unsafe products such as NPS, as and when local intelligence determines the need and the constraints under which we operate make it possible."
A spokesperson from Police Scotland added, "Police Scotland is fully committed to Keeping People Safe and tackling the issues associated with New Psychoactive Substances. Offering our assistance with the visits undertaken by Trading Standards is just one aspect of our strategy to help them remove these dangerous substances from communities across Scotland.
We will continue to work closely with Trading Standards and other key partners as we approach the introduction of legislation which provides a more appropriate means for tackling the issues surrounding the production and supply of new psychoactive substances in Scotland."
Prosecution of a national supplier of mobility furniture and aids
An investigation conducted by Aberdeenshire Council's Trading Standards Service has resulted in the prosecution of a national supplier of mobility furniture and aids.
DirectXL Limited, who trade from Unit 2 Furness Drive, Poulton Business Park, Poulton-Le-Fylde, Lancashire, pled guilty to two charges of misleading consumers as to their legal rights under the Consumer Protection from Unfair Trading Regulations 2008.
The company, which also trades as XL Direct – Independent Living Specialists, was fined a total of £500 at Aberdeen Sheriff Court on 2nd December 2015. The company had previously pled guilty to misleading an elderly consumer as to her legal rights in relation to cancellation of a contract formed in her home and statutory rights to redress in the event of faulty products being provided.
Where a consumer enters a contract during a visit to their home by a trader, the trader is under a legal obligation to provide to the consumer a written notice detailing their legal right to cancel that contract. This cooling off period is 14 days as set out in the Consumer Contracts (Information, Cancellation and Additional Charges) Regulations 2013. It is an offence for a trader to fail to provide this notice and any attempt to mislead a consumer about this legal right is an offence under the 2008 Regulations. 
Similarly, any attempt to mislead a consumer as to their legal rights to civil redress under the Consumer Rights Act 2015 in the event of faulty or misdescribed products being supplied by a trader will be viewed as a potential offence under the 2008 Regulations.
Aberdeenshire Council's Trading Standards Service hopes that this conviction will send out a message to all traders, whether they operate locally or nationally, that failure to provide consumers with the necessary information regarding their right to cancel and the provision of misleading information in this respect will not be tolerated by consumers, Trading Standards or the Courts. 
Consumers wishing further information on their rights under this legislation or any other consumer protection legislation should visit our website - https://www.aberdeenshire.gov.uk/business/trading-standards/ - or contact the Citizens Advice Consumer Helpline on 03454 040506
Tesco supplier told they need not lighten their loaves
Tesco has withdrawn over 66,000 packs of garlic bread slices after an investigation by Aberdeenshire Council's Trading Standards Service discovered a number of packets on sale were underweight.
During the course of two visits to Tesco stores within Aberdeenshire, officers discovered 39 packs of the supermarket's own-brand garlic bread slices had net weights below the declared weight and legal tolerance.
One 290g pack was recorded as having a net weight of 229.8g, representing a 20% deficiency.
Food and drink sellers are governed by the Weights and Measures (Packaged Goods) Regulations 2006, which places legal liability in such circumstances on the packer of the goods and not the seller.
The producer of the products, Bakkavor Foods Ltd, has since put in place a number of measures to avoid a repeat of the incident.
Trading Standards manager, Wilma Urquhart, said: "Aberdeenshire Council's Trading Standards Service takes these incidents extremely seriously and we were pleased to see that the supermarket acted swiftly following the discovery.
"By issuing an Emergency Product Withdrawal, batches worth £93,000 have been removed from the shelves.
"Our work is very important in protecting both consumers and businesses from unfair competition and the service will continue to work with both Tesco and Bakkavor to ensure legislative compliance."
Consumer Rights Act
Businesses should now be complying with the Consumer Rights Act. All information related to the Act can be found on the Business Companion website, alternatively businesses can contact Trading Standards for tailored advice. In addition the Chartered Trading Standards Institute has worked with Virtual College to develop training modules for businesses.

The Consumer Rights Act replaces 12 existing laws including the Sale of Goods Act 1979 and the Supply of Goods and Services Act 1982. Amongst other things it also: outlines a clearer route for consumers who feel goods or services fail to do what they are supposed to; addresses digital content as a separate product category and outlines the rights to repair or replace faulty intangible digital content; and clarifies the periods for repair, replacement and refunds of goods and services.
Doorstep Selling
Have you been cold-called by someone offering to carry out work at your home, such as tarring your driveway or offering to sell you goods such as double glazing or alarm systems?
Although doorstep trading is not illegal, you may be putting your money at risk by purchasing from such traders. While the prices being offered may be tempting, hasty decisions made on the doorstep can sometimes result in agreeing to work that isn't necessary, that turns out to be more expensive than quoted or that's carried out to a poor standard if it's done at all.
Trading Standards have seen a significant increase in complaints over the last three years and are keen to remind consumers to take some sensible precautions before agreeing to any work being done.
Don?t be pressured into letting a trader start work straight away. Many rogues will try to make the homeowner feel that the offer is for a limited time and if they don't sign up they'll miss out.
Ask friends, family and neighbours if they can recommend a reliable, trustworthy tradesperson
Get at least 3 written quotes. Choose the tradesman who offers the best value taking into account the quality of workmanship and reliability, not just the cheapest.
Check any name and address the trader provides is genuine. Rogue traders often won?t provide an address or they will provide false information.
Do not be misled by the presence of a local telephone number in an advert or on a flyer. Itinerants frequently use such numbers to give the impression that they are local.
Do not use a trader who asks for money up front. Many rogue traders will say they need money to pay for materials or to pay their workers, then disappear as soon as the money is handed over.
Never pay until the job is completed and you are satisfied with the standard of work. consumers about problems associated with doorstep sellers and to ensure consumers know their rights and where they can obtain help if necessary.
Case studies
A resident near Stonehaven was cold-called by men offering to do tarring work at a cost of 2 per square foot. The resident asked for two potholes to be filled and expected this to cost 40 to 50. However, the workmen tarred a much larger area and then demanded 1600.
An Aberdeenshire resident contacted a landscaper through an ad in Yellow Pages. The trader used an 01224 number so the consumer believed he was local. However, calls to the number were redirected to the trader?s mobile phone. The trader was given a substantial deposit and disappeared without doing any work.
An elderly gentleman negotiated to get a lockblock drive laid for 2500. When the work was finished the trader demanded 3500. Despite feeling the work was shoddy the consumer felt threatened and eventually agreed to pay 3000. The trader returned next day demanding a further 500 and threatening to damage his property if he didn?t receive his money. The consumer had to call the police to get them to leave.
A son contacted Trading Standards very concerned about his elderly parents. His father had received a telephone call from a company offering to supply an alarm system and they were subsequently visited by a salesman. The salesman stayed for 4 hours and persuaded him to sign a contract for an alarm system for 5000 which they didn?t need.
The Office of Fair Trading and Age UK have joined forces and are also warning people, particularly those in later life, the vulnerable and their friends and family, to be wary of rogue doorstep traders offering home improvement services.
Public information films can be viewed by clicking below.
Office of Fair Trading's You Tube Channel
For further information or to obtain any leaflets on Doorstep Selling please Email: trading.standards@aberdeenshire.gov.uk  
Are you plagued by nuisance calls? 
Aberdeenshire Council Trading Standards are participating in a scheme to protect vulnerable adults from unwanted scam, marketing or nuisance phone calls. 
The initiative involves the use of "True Call", a small device that is fitted to the phone line which will block the majority of unwanted calls, but allow family, friends and other trusted callers to continue to be able to contact the user.
The participants will be given the opportunity to try the unit for a set period of time, after which they will be informed of the number of calls that were blocked.
Pilot projects carried out by other authorities have shown that the device can block up to 98 per cent of nuisance calls, leaving residents feeling safer and in greater control of who contacts them.
Trading Standards would like to hear from anyone who would like to participate in the scheme. Anyone can apply but priority will be given to residents of sheltered housing, vulnerable adults in the community and victims of scams.
Bogus callers and scammers can operate in a number of different ways and tend to target the most vulnerable people in our community. They can cause significant financial loss and have a well-documented effect on the welfare of victims, therefore targeting bogus callers is a high priority for Trading Standards.
Ofcom, who are the independent regulator and competition authority for the United Kingdom communications industry, released figures in 2012 which show that around 10,000 unsolicited marketing calls and 3,000 silent calls are received by consumers every month.
It is widely recognised that there is significant under reporting of nuisance calls so actual figures will be significantly higher. Contact us at number below.
Aberdeenshire Council Trading Standards
 Gordon House, Blackhall Road, Inverurie AB51 3WA
Telephone: 01467 537222
 Maconochie Road, Fraserburgh AB43 8TH
Telephone: 01346 415888
 Email: trading.standards@aberdeenshire.gov.uk
Ever ordered something online or after a cold call and had second thoughts but didn't know what to do?
The Consumer Protection (Cancellation, Information and Additional Charges) Regulations 2013 provides a cooling off period in some circumstances. If you're not sure about your rights, there is guidance available on the Gov.uk website below.
https://www.gov.uk/online-and-distance-selling-for-businesses
Dixie the Sniffer dog busts illegal tobacco sellers
In a two day operation, officers from Aberdeenshire Council Trading Standards supported by Police Scotland targeted a number of businesses across the Shire where officers had reliable information that illegal tobacco products were available for supply.
For the first time within Aberdeenshire, a 'sniffer' dog named Dixie was employed to detect illicit tobacco. The specialist dog has been trained by Stirling Council to target the scent of tobacco and DVD products and to direct officers to hidden stashes in more unusual places. In this particular operation, the dog was able to detect tobacco hidden behind a false wall.
Officers made a high profile visit to Thainstone Sunday market and a large number of vehicles and stalls were inspected and guidance issued. It was encouraging that no illicit products were detected during the visit. Further intelligence led visits were made to a number of stores in the North of Aberdeenshire and resulted in the seizure of 7000 illegal cigarettes.
Further investigations are being carried out to identify the sources of supply and follow up action will be taken where appropriate.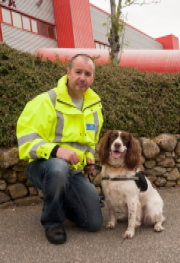 Wilma Urquhart Trading Standards Manager said: - specialist trained tobacco detection dogs are another valuable tool in helping this service tackle the illegal tobacco trade. The public should avoid buying tobacco from sources that are unregulated with no controls on the production and distribution of tobacco products, there is also strong evidence to link this illicit trade to other illegal activity. ?
Faulty Charger Warning
Police and fire officers investigating the cause of a house fire in Sheffield which left five members of the same family dead say the blaze was probably caused by an electrical fault involving a faulty charger.
Aberdeenshire Trading Standards suggest the following advice for consumers when buying a charger for any household electronic device:
Always look out for the manufacturers or importer's brand name/logo and their address
A model and batch number should either be on the charger itself or on the packaging
Adequate warnings and instructions for use should be provided in English
Avoid sellers importing directly from and based from outside the EU
Check that there is at least 9.5mm between the edge of the pins and the edge of the charger
Ask for a receipt so that the purchase can be traced back if there is a problem.
Check that the output voltage and current ratings marked on the charge and your electrical device are the same
Ensure that the polarity of the charger matches the device
Don't mix chargers - always use the right charger for each device
Do not leave on charge overnight
If you think you have purchased an unsafe or counterfeit charger stop using it immediately and report it to Trading Standards by contacting the Citizens Advice Consumer Service on 08454 04 05 06.
No Cold Calling Stickers Available
Aberdeenshire Trading Standards are offering 'No Cold Calling' door stickers for residents to display. Please contact us on 01467 537222 and we will be happy to send you one or more .
Trading Standards team's tips as more companies go into administration

Aberdeenshire Council's Trading Standards team are offering advice to consumers to help avoid losing money when companies go into administration.
Famous names like Comet, Jessops, HMV and Blockbusters are among the increasing number of companies which have recently gone into administration.
Customers can be left out of pocket because, when a company goes into administration, its legal status changes and so does its legal and contractual obligations.
People who have bought goods which have not been delivered; discovered goods they have recently purchased are faulty, or who have gift vouchers, may find themselves losing out.
The Trading Standards team are advising people of a few steps that can be taken to protect their purchases:
Using a credit card to purchase goods or services with a cash value of over 100 - Section 75 of the Consumer Credit Act 1974 makes the credit card provider liable if the company goes bust.
A similar scheme called chargeback applies to most debit cards - there is no minimum spend for most chargeback schemes, but usually a time limit of 120 days to make a claim. Also this scheme is not backed by law and does not guarantee that you will receive a refund. Contact your bank for more details.
Companies in administration are unlikely to accept returns of faulty goods, issue refunds or offer repairs. S75 can be used in these circumstances to obtain redress. Most goods come with a manufacturer?s warranty and this should not be affected by a retailer going into administration.
Gift vouchers are unlikely to be honoured by a retailer in administration but there is little help available to get your money back. Trading Standards advises people to think carefully before buying vouchers. A company could go into administration at very short notice. Bear in mind they also come with time limits - an estimated 250 million of gift vouchers go unspent every year.
If money cannot be recovered through a credit or debit card issuer, customers can register with the administrator as an unsecured creditor. However, even if there are assets in the company, compensation my only be a few pence in the pound at most.
Occasionally a company in administration will be taken over and carry on trading. Their legal status is likely to have changed and, although they may not be legally responsible for the contracts of the original company, they may be willing to help consumers as a gesture of goodwill - this could include gift vouchers being honoured but with additional restrictions. New companies may wish to protect the brand's reputation and, although their legal obligations may be limited, it is worth contacting the branch or head office to discuss the matter.
Free advice on this, or any other consumer-related matter, is available from the Citizens Advice Consumer Helpline on 08454 040506.
For more Trading Standards information, go to:www.aberdeenshire.gov.uk/business/trading-standards/


Computer Scam Warning
Trading Standards is warning consumers to be on their guard if they receive unsolicited phone calls informing them that they have viruses on their home computers. This is a known scam.
The callers, falsely claiming to be help desk staff from the legitimate well-known IT company Microsoft (also referred to as Windows), appear to be randomly telephoning people and misleading them into believing their computer is infected by a virus and needs immediate attention. Several local residents have been persuaded to part with large sums of money for the company to ?fix? the problem.
The general trend is for the scammer to state that they are aware that the consumer's computer is infected with a computer virus however they will be able to remove the virus. The consumer then allows the caller remote access to their computer and the scammer goes through a fictitious process of removing a virus. The scammer then only allows the consumer to regain control of their computer if a fee of between 85 and 250 is paid.
Not only is the consumer swindled out of this unnecessary fee but has allowed the criminal access to their computer for what can easily be up to two of hours. During this time the scammer may have gained access to personal information and password details. Potentially the scammer will then have access to personal email accounts, bank accounts and information that may be used for identity theft purposes.
If remote access is given to scammers the consumer is best advised to change passwords and even bank account details and ensure the computer is checked by a legitimate computer technician to ensure viruses and other adverse software has not been downloaded to their computer.
Legitimate IT companies do not telephone their customers and offer to remotely remove viruses and anybody receiving such a call should be immediately suspicious and not allow remote access.
Consumers are advised to ensure that they have up to do anti virus software on their computers which can be purchased from reputable computer businesses, downloaded for free from the internet and some internet providers include antivirus software for free with their packages. Consumers may contact their internet service provider or a local computer technician for further advice.
Trading Standards would further advise that if consumers receive unsolicited telephone calls, or doorstep visits, offering to supply goods or services consumers should not feel pressured in to making a decision. Obtaining a number of quotes and shopping around for the best service and the best price should help to ensure you don't fall victim to high pressure sales tactics. Everyone should feel confident in saying "No thank you" in their own home and taking the time to decide on the right purchase for their needs.
Scams can be reported to Citizens Advice Consumer Service on 03454 04 05 06 who can also offer free advice if a payment has been made.
---
Share this information