Kintore
Range of Conditions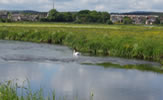 The river flows for about one mile through the flood plain giving a range of conditions from streamy to gentle gliding water which offers the dry fly angler considerable scope.
The river is significantly bigger in volume after its confluence with the River Ury.
Pools
Wading on sandy – gravel bottom provides the opportunity for covering most

pools.
There are 20 named pools which provide holding lies and a wide variety of water types.
Renowned for big brown trout and sea trout from April to August with a good summer grilse run from May to August, Kintore has a reputation for big back end fish.
Image Download Kintore Map (pdf 697 MB)

---
Share this information