Business rates bill explained
Besides telling you how much business rates you have to pay, your tax bills contain quite a lot of other information:
Your bill explained
Your business rates bill will show details such as, your current method of payment, the amount of each instalment and the due date by which it must reach us.
View our full explanation of your business rates bill to help you to understand it better.
Select or click on the various parts of the form to find out more information about your business rates bill.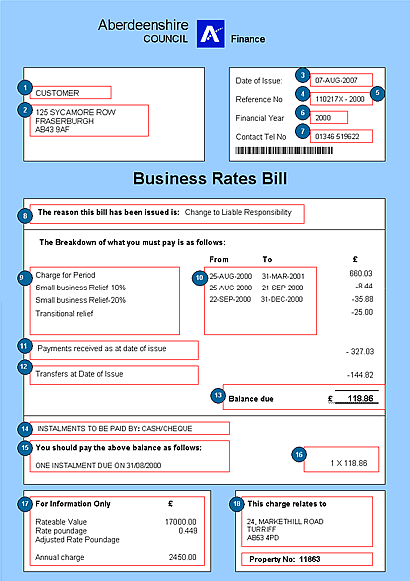 | | |
| --- | --- |
| 1. | The person(s) or company liable for payment of the bill |
| 2. | Contact address – where the business rates bill will be issued |
| 3. | Date the business rates bill was issued |
| 4. | Your business rates reference number - to help us deal with your query quickly, always quote this number when you contact us |
| 5. and 6. | This is the financial year that your bill relates to |
| 7. | Phoning us – if you have any questions about your bill, please phone this number |
| 8. | The reason the business rates bill has been issued; for example annual bill, duplicate bill, exemption, relief |
| 9. | Charges for your bill and any reductions that have been awarded to your account |
| 10. | This is the period the charges on this bill relates to |
| 11. | Payments that have been made to this account up to the date the bill was issued |
| 12. | Payments that have been transferred from other reference numbers or other financial years |
| 13. | This shows the outstanding balance payable for this bill |
| 14. | This is the current payment method of your bill |
| 15. | Payment instalment dates |
| 16. | This is the instalment value to be paid by each instalment date |
| 17. | Please note this is the annual charge for this property based on the rateable value and rate poundage |
| 18. | This is the subjects that the Business Rates bill relates to |
Who pays the bill
The person responsible for paying the business rates bill is either: 
the occupier of the property

the party who has the right to occupy the premises should it be vacant
This could be the owner, tenant, sub-tenant or the occupier.
Request a revised copy of your bill
By requesting a copy of your business rates bill, we will send you a revised bill. This is not a copy of the original bill issued, your instalments will be recalculated over the remaining months for the current financial year, if you are not up to date when requesting a copy, your payment will increase. If you request the copy bill within 10 days of the next instalment date, it will automatically calculate from the next payment date.
---
Share this information