Business Resilience and Sustainability Scheme
This scheme has proved very popular and has now closed to new enquiries and applications for the current year.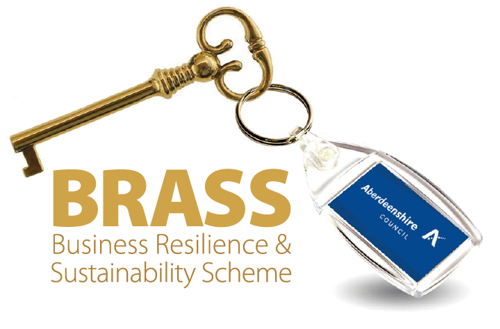 The Business Resilience and Sustainability Scheme (BRASS) has been introduced to react to and support our most innovative and capable businesses and social enterprises. The scheme is designed to complement work undertaken by our partners such as Business Gateway, Scottish Enterprise and Opportunity North East (ONE) to boost the local economy and maximise the benefit to the business. BRASS replaces the previous Support for Aberdeenshire Business (SAB) scheme.
BRASS aims to:
Enable viable businesses to invest in diversification proposals for new products and markets
Support businesses to respond to public expectations around climate change and net zero
Build digital resilience and ensure that businesses have the platform and skills to do so
Enable businesses to secure accreditations that will improve their market position and access to new markets
Support digital and net zero audits to help businesses access other funds and plan investments
Discretionary grant funding may be available to help SMEs which meet the above aims of the BRASS scheme. Key points to note:
Any grant funding awarded cannot be used to pay for statutory items or combined with any other Economic Development grant
Only external costs are eligible, for example routine operational costs such as staff wages are ineligible
A minimum of 50% match funding from a successful applicant is expected, the match funding could be in the form of private investment or loan funding or retained profits
For an initial discussion about a business proposal, contact your local Economic Development Officer.
Applicant information
If your application is successful a formal offer letter will be sent to you. This letter will confirm the specific conditions attached to your award. The following applies to all applicants:
No officer of the Council can promise assistance as every case is discretionary.
Grants will not be approved for expenditure committed to or incurred prior to an application being made.
Payment of grants will be reimbursed at 50% of the expenditure incurred up to a maximum of the grant awarded. For example, if you have been awarded a grant of £5,000, we will need to see evidence of £10,000 of eligible expenditure. Bank statements, receipted invoices or online banking extracts will be required as evidence of your payment to your supplier of goods or services.
Payment of your grant will be made in one lump sum following receipt of satisfactory evidence of expenditure. Staged payments may be considered.
Applicants will be required to complete one or more questionnaires relating to the support awarded and will be asked to participate in a monitoring visit by a representative of Economic Development.
Any grant awarded must be claimed in full by the applicant and paid out by Aberdeenshire Council, by 31st March 2021.
Aberdeenshire Council reserves the right to publicise the support offered to your business by the Scheme, however we will contact you in advance of any such promotion.
The Council may be restricted by European State Aid rules when offering assistance.
After being awarded assistance a business cannot apply to the Scheme for a further 18 months.
BRASS case study - Peterhead Prison Museum
Peterhead Prison Museum was one of the businesses who applied and was successful in securing the BRASS funding. Read the case study to find out about their challenges and how the funding helped them adapt.
"Like many businesses we were faced with a challenge in 2020 owing to a four-month unexpected closure due to the pandemic, this saw our attraction closed during what would normally be our high season.
By the time clearance was given to re-open, we were faced with the dilemma like many other visitor attractions of being in a three-winter season and had to look at how best we could get the message out that we were again open for business after securing our 'Good to Go Certificate' to demonstrate to visitors that we were a safe environment to visit.
The decision was taken to try an advert on television showcasing our attraction in the hope it would bring visitors from across the region not only to the museum, but hopefully to support other local businesses within the Buchan area.
However, one issue faced was the high cost of such an advert, and with losing four months of income the concept was initially placed on hold until finances could be secured.
Just at this time the Aberdeenshire Council Business Resilience and Sustainability Scheme (BRASS) application process was opened, and we decided to apply to hopefully share the cost, as we were still uncertain of the impact of such an advert at this critical time for the business.
During the month-long run of the advert and comparing visitor numbers for the same period in 2019 to 2020 we were delighted to see that numbers had increased even during what is still a trying period, and visitor spend also increased due to the current 'staycation' drive nationally, helping to sustain jobs at the attraction.
Without the support of the BRASS funding, we may have missed what has turned out to be an excellent opportunity, as many of our visitors have said they either saw the advert, or were told by friends about the advert, or they had intended for some time to visit us, but the advert spurred them on to visit, so overall a tremendous success and all due to the support of the funding allocated."
---
Share this information