Scotland Loves Local – Aberdeenshire
The Scotland Loves Local campaign is a national initiative designed to encourage all those who live in Scotland to think local first and support local businesses and build stronger communities.
We aim to build on the existing, successful national campaign. Aberdeenshire businesses are encouraged to download the Scotland Loves Local - Aberdeenshire logo. It is available in various formats within a zip file. Please use it in any way you feel suitable to promote your business, remind and actively encourage people to shop local in Aberdeenshire.
It is envisaged that as local business owners, you will welcome and utilise the free initiative to encourage footfall and increase local spend in our Aberdeenshire economy.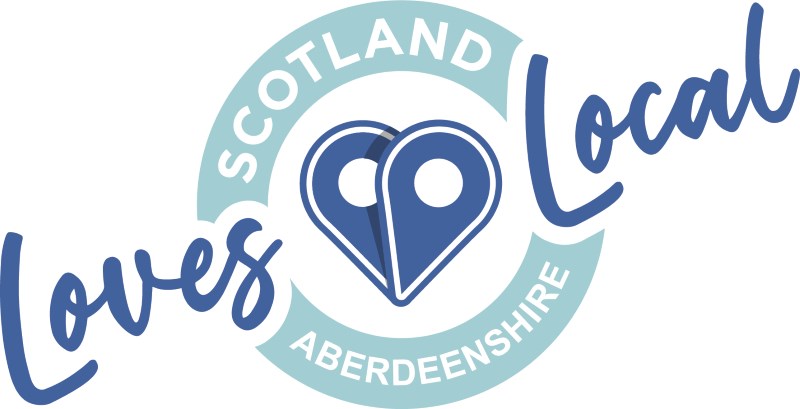 ---
Aberdeenshire Gift Card
The Scotland Loves Local Aberdeenshire Gift Card scheme helps to power the region's economic fightback against the COVID-19 pandemic. The scheme is funded through the Scottish Government and delivered by Scotland's Towns Partnership (STP). We are promoting the campaign and encouraging businesses to get involved.
Find out more about the Aberdeenshire Gift Card scheme and the £100 gift card for low income households.
How to get involved
View ideas on how to get involved to reach as many people as possible about the importance of thinking local first.
---
Case studies
Six Degrees North, Laurencekirk – Christmas Hamper 2020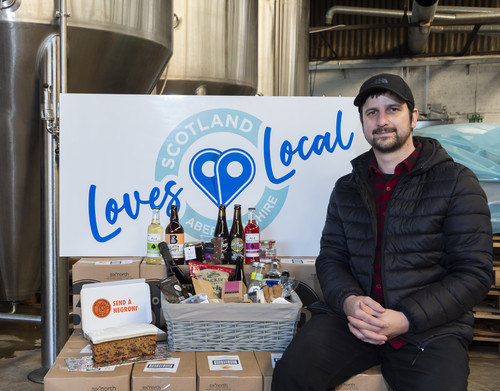 An impressive array of 17 Aberdeenshire and 6 Aberdeen based food and drink businesses from all corners of the region in the Christmas hamper from Six Degrees North pictured with Marketing Manager, Matt Carrington. Welcome support for family and friends who operate our Aberdeenshire businesses, ensuring that the money we spend benefit our local communities and assist local employment.
View Aberdeenshire based businesses in the Christmas hamper:
Six Degrees North Snowy - 2 items of Winter Warmer 330ml, Stonehaven
Burnside Brewery - 2 items of Lift and Shift Pale Ale 500ml, Laurencekirk
Brew Toon - 2 items of M'ango Unchained IPA 330ml, Peterhead
Alexander's - Gin 70cl, Stonehaven
Cakes by Alli-baba - Christmas fruit cake 250g, Laurencekirk
Six Degrees North - Spent Malt Dog Treats 250g, Stonehaven
Angus and Oink - Hot Sauce Gift Pack of 3 sauces each 150ml: Red Dawg Apache, Voodoo Mango, Phat Taco, Inverurie
Honey Hill Bee Farm - Blossom Honey 225g, St Cyrus
Mearns Marmalades - Red Onion Chutney 210g, Fettercairn
Mackies of Scotland - Turkey and Stuffing Crisps 150g, Inverurie
Cambus O'May Cheese Co - Cheddar Cheese 200g, Cambus O'May
Ace Kombucha - Hibiscus Kombucha 330ml and Gunpowder Kombucha 330ml, Ballater
Summerhouse Drinks - 2 items of Scottish Raspberry Lemonade 250ml, Fraserburgh
Mckenzie's - Original Savoury Biscuits 120g, Turriff
Shona's Shortbread - Handmade Shortbread 200g, Stonehaven
Devenick Dairy - Mealie Oatcakes 115g, Banchory Devenick
Sweet Toots Cakery - Tablet 75g, Newburgh
View Aberdeen based businesses in the Christmas hamper:
Porter's Gin - Christmas Pune Negroni (2 serves)
Cocoa Ooze - Reindeer Chocolate 4 pack of 60g
MacBeans - Freshly Roasted Costa Rica Whole Bean Coffee 200g
MacBeans - Mulled Wine Tea 100g
Big Beefys Biltong - Chilli Biltong 35g, Honey Mustard Biltong 35g
Nom Fudge - Premium Fudge 100g
L'Art Du Vin (importer) - Organic Prosecco Spumante Brut, NV Florida 75cl, Edinburgh
The Bay Fish and Chips, Stonehaven – Cateys 2020 Sustainable Business Award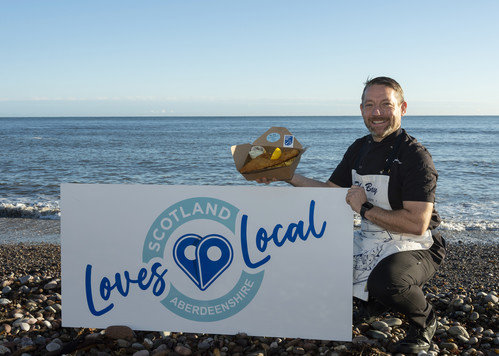 Putting Aberdeenshire on the map was notable but doing so by winning Cateys 2020 Sustainable Business Award was outstanding. Owner, Calum Richardson of The Bay Fish and Chips, has taken sustainability to another level.
90% of produce is sourced within 50 miles of the shop in Stonehaven and suppliers are chosen with sustainability in mind. The Bay runs on renewable energy and is the first fish and chip shop in the UK to gain the Marine Stewardship Council chain of custody to sell North Sea haddock. Using 100% compostable packaging, the restaurants food waste is recycled and composted. Calum's team are trained on The Bay's sourcing practices and with the use of various technology providers, the office system is paperless.
The award category was sponsored by Coca-Cola European Partners, a leader in one of the largest FMCG sectors in Europe's most significant markets. Short-listed alongside some pretty impressive contenders, located much further south of the border, Economic Development Aberdeenshire would like to congratulate The Bay Fish and Chips, Aberdeenshire on their 'plaice' at the winners' podium.