European Social Fund (ESF)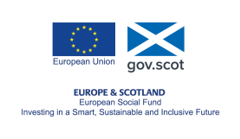 In anticipation of funding being awarded to the Aberdeenshire Community Planning partnership to support Poverty and Social Inclusion projects, we are taking applications from interested parties for both the Inclusive Aberdeenshire (IA) and Aberdeenshire Employability Pipeline (AEP) programmes.
There are two separate Application Forms and Annexes, one for each programme, and the European Social Fund (ESF) supplementary guidance, which you can find below.
If you wish to apply for ESF grant funding for poverty or social inclusion projects please read the ESF Supplementary Guidance then complete and return the relevant application form and annexe 1 to ESF team at ESF@aberdeenshire.gov.uk by 26th October 2018.
The timetable for the first round of applications is detailed below:
26th October – Deadline for application
9th November – Project Assessment Group
23rd November – TPIG
View a summary of all the projects (pdf 322KB) that are currently receiving ESF fund. 
Aberdeenshire Employability Pipeline
The Aberdeenshire Employability Pipeline provides an integrated, cross-agency approach to the delivery of employability services throughout Aberdeenshire.  Funds are available for projects which support people into sustainable employment at any point on their employability journey.
Aberdeenshire Employability Partnership: European Structural Fund Application Form 2019-22 (pdf 231KB)
European Social Fund - Supplementary Guidance V3 September 2018 (pdf 174KB)
Aberdeenshire Employability Pipeline - Extract from SI Application
Aberdeenshire Employability Pipeline Annex 1 2019 
Aberdeenshire Employability Pipeline - Participant Registration Form (pdf 292KB)
Aberdeenshire Employability Pipeline - Participant Registration Form - Guidance (pdf 404KB)
Contact:        esf@aberdeenshire.gov.uk 
Inclusive Aberdeenshire
The Inclusive Aberdeenshire initiative aims to address poverty and social inclusion throughout Aberdeenshire.  It provides support to financial inclusion projects and augments the existing Fairer Scotland Fund grants scheme.
European Social Fund - Supplementary Guidance V3 September 2018 (pdf 174KB)
Assessment of Tackling Poverty & Inequalities bids – Guidance Sheet for applicants
Aberdeenshire Tackling Poverty & Inequalities Fund Application Form 2019-22 (pdf 230KB)
Inclusive Aberdeenshire - Extract from SI Application
Inclusive Aberdeenshire Annex 1 2019
Inclusive Aberdeenshire - Participant Registration Form (pdf 298KB)
Inclusive Aberdeenshire - Participant Registration Form - Guidance (pdf 416KB)
Contact:       esf@aberdeenshire.gov.uk
---
Share this information