Energy
Forestry
Energy
Renewable Energy
Subsea
Forestry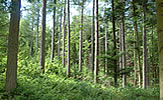 Although forest cover in the area is only just above the national average of 18%, some parts of Aberdeenshire have levels of tree cover of over 30% and the planting of improved genotypes has ensured that many of the forests enjoy above average rates of productivity, helping to support an estimated 700 direct jobs in the sector.
The Council is working in partnership with stakeholders to promote better forest management practice and to add value to sawmill co-products through developing markets for wood fuel.
Since 2007, over 10 Megawatts of biomass boiler installations have been commissioned and two wood pellet production plants entered production in 2008, complementing a robust wood chip supply chain.
The Council sees wood fuel, particularly pellets, as being a key source of affordable heating in off gas areas and a major weapon in combating fuel poverty.

Work has started on initiatives to increase the market penetration of Scottish timber in the construction sector and the Council is also active in promoting the recreational and environmental benefits of woodlands.
Aberdeenshire is home to the country's leading timber system manufacturers – timber framed houses now account for almost 50% of the new build market
Energy
Aberdeenshire is home to some key energy assets including St Fergus Gas Terminal, which processes

around 15% of the UK's natural gas requirements, Peterhead Power Station, which has a production capacity of over 1300 Megawatts, capacity to supply most of the North of Scotland's electricity needs and is likely to be home to one of the UK's first CCS (Carbon Capture and Storage) schemes, which will radically reduce carbon emissions attributable to electricity generation.
Aberdeenshire has strong engineering credentials with particular strengths in gas turbine overhaul and repair, subsea and process plant valves, temperature controlled vehicles, remotely operated vehicles (ROVs), offshore accommodation, control and storage modules and well pressure control equipment.
Westhill is a global centre of excellence in subsea engineering claiming the largest concentration of subsea engineering expertise in the world and known within the industry as SURF City (Subsea Umbilicals, Risers and Flowlines).
Peterhead harbour, the North east's leading deep sea port catering for a wide range of users from Offshore supply vessels, subsea support vessels, heavy lift barges, tankers and cruise liners, with the 200m Smith Quay and 16000 square metres of adjacent land.
15% of the UK's natural gas supplies are handled through St Fergus Gas Terminal.
Renewable Energy
With over 10 Megawatts of biomass boilers in operation, a robust supply chain of wood chip producers and two wood pellet plants in production, Aberdeenshire is well placed to provide locally sourced renewable fuel for heating, which accounts for some 45% of Scotland's primary energy demand.

Wood pellets are seen as the optimal local solution for meeting domestic heating needs and their adoption is promoted by the Council in several ways.
A strong advocate of energy efficiency, Aberdeenshire Council promotes higher than national standards in building construction and thermal efficiency, recognising the importance of reducing demand through design as a starting point for all processes.

With over 300 Megawatts of onshore wind power consented and some 108 Megawatts in production, the area is at the forefront of medium scale wind turbine developments, with around half of the installed capacity of wind turbines in the area locally owned, probably the highest degree of local ownership in the country.
Across Aberdeenshire there are some 600 old mill sites, many of which offer scope for small scale hydro electricity generation using infrastructure previously used to provide mechanical power. In addition there are several old turbine sites that have generated electricity in the past and have the potential to be recommissioned.

An excellent example is a site at Strathdon which employs a modern Archimedes screw to generate 70kW of renewable electricity, making use of infrastructure that has been in place for over 50 years
Satisfying the energy needs of the area will mean a mix of technologies and scales and the Council has set itself demanding targets for reducing its emissions, its dependence on finite resources and its overall demand for energy.
Subsea
Global demand for energy is pushing the boundaries of knowledge, capability and know how in the quest for oil and gas production from reservoirs below the sea beds of the oceans which account for over 70% of the world's surface area.
An increasing amount of production infrastructure is located between the seabed and surface of the sea and what happens in this zone is the domain of one of the UK's big success stories, the Subsea Engineering Industry.
Worth some £20bn on a world wide basis and growing at a rate of around 20%
annually, UK based companies control some 45% of the global market with around 30% of this value, a staggering £2.7bn, earned in or from North east Scotland with a focus on Westhill Aberdeenshire.
Contact
Sustainable Development Officer (Climate Change)

Email: renewable.energy@aberdeenshire.gov.uk
Further Information
Downloads
Presentations
Village Hall Summit - 1st November 2013 Tullynessle and Forbes Hall
Improving the Energy Performance of "Hard-to-Treat" Houses - 7th May 2013
---
Share this information