Fishing
Economic Development acts as a link between the Council and the fishing industry both onshore and offshore.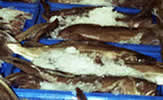 The service provides advice on all development issues relevant to fishing and access to a variety of networks and information including trade development opportunities and EU schemes to assist fishing dependent communities adjust to changes in the industry.
Peterhead is North East Scotland's principal deep water harbour catering for a wide range of users from fishing vessels pursuing pelagic and demersal species through Offshore supply vessels, subsea support vessels, heavy lift barges, tankers and cruise liners
Fraserburgh is the UK's main Nephrops (Atlantic Prawn) port
The largest manufacturer of canned seafood products within the UK is in Aberdeenshire
Aberdeenshire ports account for 33% around half of UK fish landings - over £150m per annum
The wider industry employs approximately 6,000 people in the area
320 vessels are registered in local ports
The Council provides access to information and contacts both nationally and internationally through the networks below.
Further Information
North East Scotland Fisheries Development Partnership (NESFDP)
Please click here to view a video of Cairnbulg Beach Clean from Ian Hay, East Grampian Coastal Partnership.
Contact: Industry Support Executive (Rural & Maritime)
Email: fishing@aberdeenshire.gov.uk
---
Share this information