Alford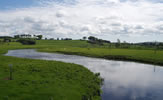 Here the Don has all the qualities of a Highland river and the stream is surrounded by mountains, moorlands and mature woodland slopes.
Salmon fishing can be excellent in the spring and autumn months.
However, the upper Don is famed for the quality of its brown trout fly fishing and fish over 2lb are frequently taken from its tumbling flows and glides during the spring and summer months.
These fishings are provided on two stretches giving access to about two miles of water.
The North bank upstream of the Bridge of Alford
The South bank, downstream of the village, within and below Haughton Caravan and Country Park
View map Alford Waterside Fishings - image
View map Haughton Fishings - image
---
Share this information