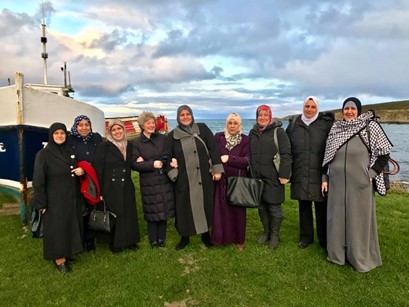 Aberdeenshire had no previous experience of supporting refugees. We are not an asylum dispersal area, so numbers of refugees and asylum seekers living in Aberdeenshire were estimated in single figures. Most councils in the UK with resettlement experience managed resettlement via housing teams, but Aberdeenshire took a slightly different approach to coordinate the programme. We are proud that our resettlement programme places equal value and importance on the capacity building of the individual refugee, family and settled community as resettlement essentials such as access to:
housing
health
education
employment
An underpinning community development approach ensures creative solutions can be found within people and communities.
A refugee is someone who has been granted status and permission to stay in the UK for a limited period (normally 5 years). Refugees have similar rights as UK citizens. All our families are refugees with 5 years Leave to Remain. After 5 years, families apply for Settled Status (Indefinite Leave to Remain). If they are granted Settled Status, they will be entitled to apply for citizenship 12 months later – if they can meet stringent English language requirements, pay a fee and pass the Life in the UK Test.
The definition of an asylum seeker is someone who arrives in the UK and seeks sanctuary. Until they receive a decision as to whether or not they will be granted refugee status and temporary leave to remain, they are known as an asylum seeker. In the UK, this means they are allocated asylum housing and weekly cash support, with limited rights and access to services. Glasgow is the main asylum dispersal area in Scotland.
Support for Ukrainians
Find out about how Ukrainians can come to the UK.
Syrian Vulnerable Persons' Relocation Scheme (SVPR)
In 2015, the UK Government announced an extension to the Syrian Vulnerable Persons' Relocation Scheme (SVPR) and pledged to resettle 20,000 refugees by 2020. The Scottish Government committed to resettling a minimum of 2,000 refugees and Aberdeenshire Council pledged to resettle 50 families via the Syrian Vulnerable Persons' Relocation Scheme (SVPR) and 8 families via the Vulnerable Children's Scheme (VCRS). In November 2019, councillors acknowledged that this target had been met and agreed to continue resettling approximately 12 to 15 refugee families per year.
United Kingdom Resettlement Scheme (UKRS)
Families coming to Aberdeenshire are resettled via the United Kingdom Resettlement Scheme (UKRS). This programme replaced the SVPR and VCRS programmes from 1st April 2020.
The United Nations High Commission for Refugees (UNHCR) identifies and submits potential cases for consideration and families are then screened and considered. Priority is given to those most vulnerable and at-risk including:
people with learning or physical disabilities
survivors of torture
young women and girls at risk of exploitation
Cases can be rejected on security, war crimes or other grounds.
Once the screening process has been completed a full medical assessment is conducted by the International Organisation for Migration (IOM) in the host country. Full details of the case and medical history are sent to Aberdeenshire for assessment of need. Eligibility is then confirmed, and IOM starts preparing visa and travel arrangements.
The Home Office allocates funding for every family resettled to Aberdeenshire. This funding covers 100% of resettlement expenditure including staffing costs, interpreters and preparing homes for arrival. Only essential furniture and items can be provided so local communities donate prams, toys, books and rugs to ensure that every family has a little extra to make their house a home.
Afghan Relocation and Assistance Policy (ARAP)
The ARAP scheme launched on 1st April 2021 and will continue to remain open and operate indefinitely. Under the ARAP scheme, any current or former locally employed staff directly employed by His Majesty's Government assessed to be at serious risk of threat to life will be eligible to apply for ARAP regardless of their employment status, rank or role, or length of time served.
Afghan Citizens' Resettlement Scheme (ACRS)
On 13th September 2021, the Home Secretary and the Secretary of State for Housing, Communities and Local Government, wrote to Council Leaders and Chief Executives, thanking them for their support but urging councils to go further with resettlement offers. They announced details of the Afghan Citizens' Resettlement Scheme (ACRS) and how it will interact with the existing Afghan Relocation and Assistance Policy Scheme (ARAP) and the United Kingdom Resettlement Scheme (UKRS). Aberdeenshire Council had an ongoing commitment to resettling 12 to 15 families per year via UKRS, but with two new additional schemes in operation, we have re-evaluated our commitment and the council will now resettle 30 families per year across the three schemes.
The scheme provides protection for people at risk identified as in need. The scheme will prioritise:
those who have assisted the UK efforts in Afghanistan and stood up for values such as democracy, women's rights, freedom of speech, and rule of law
vulnerable people, including women and girls at risk, and members of minority groups at risk (including ethnic and religious minorities and LGBT+)
The role of our Refugee Resettlement Team 
The Refugee Resettlement Team has a wide range of professional backgrounds including housing, social work, education, business, community development and oil and gas, and includes bilingual Arabic speakers. They team consists of council employees but it is funded directly by the Home Office.
Once resettlement has been approved by UNHCR and the Home Office, the Refugee Resettlement Team will begin preparations for arrival. This involves:
preparing a home with basic essential items
arranging health assessments
school and ESOL class enrolment
Jobcentre appointments
When a family arrive, they are met at the airport by the team, taken to their new home and helped to feel safe and settle. Over the next few months, the team will provide intensive support to encourage and enable families to independence.
After 12 months, home visits stop and support is reduced to advice only unless a family is particularly vulnerable.
Our job is to ensure all necessary long term mainstream supports are in place if required. During this period, new Scots' families take a giant leap from being scared and uncertain on arrival to being confident and managing their own lives and goals.
New Scots, new homes, new lives
Aberdeenshire new Scots' families have embraced their new homes and new communities. Many are ambassadors for communities they love and are determined to contribute in any way they can. Most families arrive with little or no English, but in a few years some are now university undergraduates, engineers and care workers. New businesses have been formed built on traditional skills of cooking and tailoring and new friendships formed. Refugee resettlement is brutal and it's not an end result, it's an opportunity for a new life, new opportunities and hope.
Get in touch, volunteer, donate
For more information or if you would like to volunteer or donate, please email RefugeeResettlementTeam@aberdeenshire.gov.uk.
---
Share this information