Local support for adapting a business during coronavirus
Scotland Loves Local – Aberdeenshire
The council encourages all Aberdeenshire businesses to back the Scotland Loves Local – Aberdeenshire campaign by downloading the logo and using it in your own individual applications to promote your business.
The council encourages all Aberdeenshire businesses to back the Scotland Loves Local – Aberdeenshire campaign by downloading the logo and using it in your own individual applications to promote your business.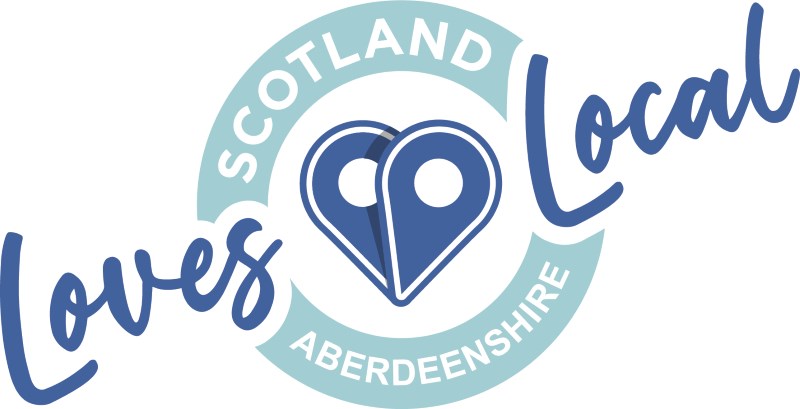 The council and our partner agencies will continue to provide situation specific advice and guidance for the business community across Aberdeenshire.  We continue to liaise closely with the Scottish and UK Governments to ensure that Aberdeenshire benefits from the financial packages available, alongside developing local responses to support businesses to 'build back better'.  
---
General workplace guidance
View advice and guidance from the Scottish Government on how to work safely.
---
Planning
View planning related advice.
---
Building warrant
Any alterations to a building where the public have access (such as cafe, shop public house) requires building warrant approval. This may include changing access to allow external spaces to be utilised or altering a doorway to provide a service counter. Some shelters, if to be erected for more than 28 days, would also require approval. As no two premises are the same and will require individual solutions so we would recommend that you contact us.
Further information on how an application can be made:  
---
Environmental health and trading standards
Our Environmental Health and Trading Standards teams would like to encourage businesses to engage as early as possible if you are considering changes to the way that you operate, this could be a new takeaway service, product line, using a different part of your building or outdoor space.
More guidance is available on the following pages:
---
Roads
Find out how to apply for a street cafe consent.
---
Tourism
The Scottish Government has issued guidance to help businesses in the tourism and hospitality sector. This guidance outlines the steps that need to be taken to give reassurance to potential visitors that it is safe to visit. It includes procedures for staff and customer safety, as well as an operations checklist.
VisitScotland has created a one-stop-shop to gather together the Scottish Government guidance and guidance produced by sector groups to provide you with best practice advice to help you prepare to open and welcome visitors again.
---
Off-street car parks
Any car park listed in the Aberdeenshire Council (Off-Street) Parking Order, 2019 (pdf 473KB) requires permission for use. You can apply for permission by emailing us. Please provide a plan and description of the area of car park that you wish to use, along with dates between which you would wish to have use of the car park. Please note lease arrangements and costs may be required.
---
Licensing
Our Licensing team, including the Licensing Standards Officers, would like to encourage early engagement with licence holders so that we can make sure that you get the right advice about how to proceed. This applies to all licence holders including, but not limited to, premises licence holders, street traders, and market operators. We will work as flexibly as we can to ensure that you have the information you need to decide how to proceed during this difficult time. View licensing guidance.
---
Economic Development
We want to reassure the businesses and communities of Aberdeenshire that we are working on your behalf to minimise the negative impact on the economy. We are liaising closely with both the UK and Scottish governments and will continue to do so as the situation develops.
Together with our partner organisations, we will work, as far as is practically possible, to lessen the negative impact that is being felt from the effects of COVID-19. We appreciate that this is a very difficult time for your business and we are here to support you.
If you have a specific request please email:  econdev@aberdeenshire.gov.uk.
---
Counter terrorism and security
View counter terrorism advice (pdf 599KB) and what you need to consider in terms of security when you are making plans for re-opening your business.
---
Customer and Public Toilets
The Scottish Government have published guidance on opening of public and customer toilets during the coronavirus pandemic.
---
Contact
If you require cross service support in order to assist in your business re-opening or adapting following lock down restrictions, please fill in the Adapting your Business Operations Support form and we will assist you with your enquiry or table your proposal at our Support Forum.
Please send full details of your proposal including site location plan, any other plans, photographs or detail that may allow a full response to easinglockdownsupport@aberdeenshire.gov.uk. Please add your site address into the subject of the email; the more comprehensive your submission the quicker we can respond.