Climate Ready Aberdeenshire vision
Climate Ready Aberdeenshire is a cross-sector initiative to create a climate change adaptation and mitigation strategy for Aberdeenshire. It brings together the views and expertise of a range of diverse stakeholders from communities, public, private and 3rd sector organisations, to set out how we can work collaboratively to meet the challenges of a changing climate within Aberdeenshire.
Aim and objectives
Our aim is a shared vision, strategy and action plan for Aberdeenshire to mitigate climate change and adapt to its impact while protecting our biodiversity.
Our objectives are:
Increase the understanding and awareness of climate change risks and opportunities within Aberdeenshire.
Work with communities using a place-based approach to discover what their priorities are and how they can be supported to mitigate and adapt to climate change.
Support decision-makers to make climate friendly and climate ready decisions which support the delivery of local and national commitments and mutually benefit Aberdeenshire's environment, economy and people.
Provide knowledge, advice and support and link businesses, community groups and individuals to resources, projects and funding opportunities to help them mitigate and adapt to climate change.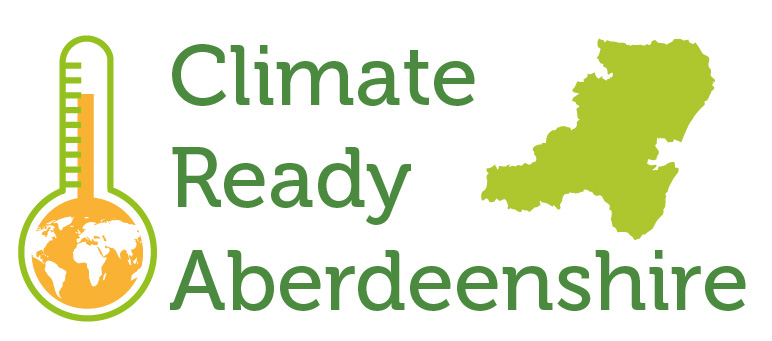 ---
The steering group
Climate Ready Aberdeenshire is governed by a steering group consisting of senior representatives from organisations throughout the North East of Scotland. The group is led by a Chair and Vice-chair and supported by a project lead provided by the initiative's sponsor, Aberdeenshire Council.
The steering group consists of members from the following organisations:
---
Working groups
Each of our four working groups is led by a member of the steering group and has its own vision and outcomes which align with Climate Ready Aberdeenshire's vision and objectives.
These groups are in place for 6 months, during which time they will collaborate with our partner organisations and community groups, contribute to the Climate Ready Aberdeenshire strategy and complete short-term mitigation, adaptation and biodiversity actions.
Adaptation and Resilience
This group aims to ensure Aberdeenshire has a shared understanding of the risks of climate change and how to adapt and build resilience to these.
Mitigation and Net Zero
This group aims to ensure that communities and organisations within Aberdeenshire have a shared understanding of climate change mitigation, local and national Net Zero targets, their role in helping to achieve these targets and how to do this. 
Protecting and Enhancing Biodiversity
This group aims to ensure Aberdeenshire has a shared understanding of the importance of biodiversity, their role in protecting, promoting and enhancing our local biodiversity and how to achieve this.
Sustainable Economy and Communities
This group aims to ensure Aberdeenshire has a shared understanding of the economic benefits and opportunities associated with climate change action and how these can be used to build a just, climate-friendly, low-carbon economy and communities.
If you would like to be involved in any of our working groups, please email sustainability@aberdeenshire.gov.uk.
---
Duration and milestones
Key project milestones and dates:
November 2019 to September 2020 – phase 1: establishment of Climate Ready Aberdeenshire and engagement with stakeholders and partner organisations
October 2020 to November 2022 – phase 2: develop the Climate Ready Aberdeenshire strategy
November 2021– United Nations Climate Change conference (COP26) in Glasgow
2022 to 2030 - phase 3: implement the Climate Ready Aberdeenshire action plan
2031 to 2040 – phase 4: long term delivery of Climate Ready Aberdeenshire
2045 - net zero target Scotland
---
Funding Opportunities
A variety of organisations offer funding to help tackle climate change and related issues:
---
Partnership working
We are already working closely with partner organisations across Scotland and Europe to strengthen partnerships between sectors, local authorities and regions which all face the challenges of climate change.
Aberdeenshire is a member region of the Conference of Peripheral Maritime Regions (CPMR) North Sea Commission. Officer and elected member representation on each of the 4 Thematic Groups provides opportunities for knowledge sharing on best practice and solutions to share sustainability and climate change mitigation and adaptation challenges across the North Sea region.
We have shared knowledge and best practice with public sector organisations throughout Scotland through our partnership with Adaptation Scotland. Some of our steering group members are also members of various Adaptation Scotland groups, including the Adaptation Scotland Benchmarking working group and Climate Adaptation Finance working group.
Most recently we have joined the TalX Advisory Board and their project to identify best practice on climate change adaptation, key dimensions for effective adaptation to create a Capability Maturity Model (CMM), and to establish a learning network across all regions to accelerate adaptation progress.
---
The Challenge
Adaptation, Mitigation, and Biodiversity
Mitigation – Reducing greenhouse gas emissions to slow or stop global climate change.
Adaptation – Adjusting to the impacts of climate change to reduce negative impacts and increase resilience.
Biodiversity –Enhancing biodiversity through conservation, protection and promotion.
Why does it matter?
Scotland's climate is already changing. The climate projections for the next century indicate that the climate trends observed over the last century will continue and intensify over the coming decades.
Scotland and Aberdeenshire's populations are changing. Scotland's population was highest ever in 2018 and is projected to rise, with Aberdeenshire's population growing above the Scottish average.
Legislation for public bodies involves reporting annually on climate change mitigation and adaptation progress and reporting publicly on compliance with the biodiversity duty.
The Scottish Government has committed to being a net zero society by 2045 and reducing our emissions by 75% by 2030.
We're already seeing first-hand the impacts of the climate change crisis and biodiversity crisis on our environment and our communities – we need to prevent these situations worsening.
---
Drivers and legislation
International drivers and legislation
The Paris Agreement
The Paris Agreement is a legally binding international treaty on climate change. It was adopted by 196 countries at COP21 in 2015 and came into force in 2016. The aim is that all countries who joined the agreement, including the United Kingdom must substantially reduce their global greenhouse gas emissions (GHGs) and work together to limit the global temperature increase in this century to 2 degrees Celsius, preferably 1.5 degrees, compared to pre-industrial levels.
Sustainable Development Goals
The Sustainable Development Goals (SDGs) are a collection of 17 interlinked global goals which provide a shared blueprint for peace and prosperity for people and the plant, now and into the future. They form part of the 2030 Agenda for Sustainable Development, adopted by all United Nations member states in 2015. The goals include affordable and clean energy, sustainable cities and communities, climate action, life below water and life on land.
National drivers and legislation
---
Projects
To make informed decisions we need to build our knowledge and evidence base through research and innovation. This research and innovation is not just about climate change but also community and business engagement and drawing on local knowledge and experience. This learning will be ongoing through our climate change journey and we are proud to sponsor and be part of various projects from research and education organisations across Scotland and the UK, all with a focus on community and business engagement and climate change.
Acting on climate change adaptation across boundaries
Transboundary Adaptation Learning Exchange (TalX) - funded by the Irish Environmental Protection Agency EPA
TalX is a collaborative project working across Northern Ireland, Republic of Ireland, Scotland, England and Wales. It aims to establish an innovative learning network to enable a cohesive approach for measuring and acting on climate change adaptation across boundaries. It also seeks to develop best practice for processes which empower national, sectoral and local decision makers. Each of the five case study jurisdictions are subject to similar climate risks but are at different stages of maturity in adaptation planning and implementation. TalX will develop recommendations for the improvement of local and national adaptation planning and implementation.
Talx have further information on their website.
Contact: Denise McCullagh
Email: denise.mccullagh@ucc.ie
Climate Ready Strathdon
Climate Ready Aberdeenshire and Adaptation Scotland - Funded by Sniffer
Climate Ready Strathdon is part of Adaptation Scotland's Climate Ready Localities initiative. The project aims to:
Support people who live, work and play in Strathdon in learning about climate change impacts on people and places in the area;
Equip people who live, work and play in Strathdon with knowledge on fair and just climate change adaptation and how they can embed this into their decisions;
Create a model/case/methodology for community-based adaptation that can inspire and enable adaptation across other localities in Aberdeenshire and across Scotland.
As part of this project, the Climate Ready Strathdon team will also help pilot and evaluate the updated Place Standard tool through a climate lens.  Learn more about Climate Ready Localities.
Contact: sustainability@aberdeenshire.gov.uk
Community Participation in a Just Transition to net zero in the North East of Scotland
University of Aberdeen and University of Strathclyde - Funded by the Scottish University Insite Institute
This project will help build a stronger consensus about the vision and pathways for civil society to progress a just transition in the North East. As the energy landscape shifts the impacts will be felt most keenly in communities. Hence it will bring together diverse civil society, academic, policy and business stakeholders across three interactive workshops to:
Examine global concepts and advances in just transition and how they can be practically applied in North East communities.
Identify the narratives and values on just transition by communities and how these interplay with the wider energy system and can drive genuine change.
Enhance community agency in the energy system and create a platform for both behavioural and policy change to achieve net zero.
Scottish Insight have more information about community participation in the transition to Net Zero. 
Contact: Dr Tavis Potts
University of Aberdeen
Centre for Energy Transition
Email: tavis.potts@abdn.ac.uk
Place-based climate Action in north-east Scotland: investigating climate action where 'urban' and 'rural' meet
The James Hutton Institute and PCAN/ESRC - Funded by PCAN
Alice is investigating how place-based sustainability partnerships such as Climate Ready Aberdeenshire address competing demands and priorities in the development of local climate strategies. In this PCAN Research Fellowship, Alice is studying how councils, businesses, and the public sector work together to take action on climate adaptation and seeking to understand the opportunities and barriers to place-based climate adaptation.
View PCAN Fund 2020 Awards.
Contact: Dr Alice Hague
Environmental Social Scientist
Email: alice.hague@hutton.ac.uk