Climate Ready Aberdeenshire
Climate Ready Aberdeenshire (CRA) is a voluntary cross-sector network to create and coordinate Aberdeenshire's climate change adaptation and mitigation strategy. It brings together the views and expertise of a range of diverse stakeholders from public, private, and 3rd sector organisations, to set out how we can work collaboratively to meet the challenges of a changing climate in Aberdeenshire.
Vision
All sectors, including public, private and the community, are increasingly engaged in shared dialogue, shared goals and shared action relating to climate, biodiversity, and sustainability in support of a flourishing Aberdeenshire.
Aim and objectives
CRA will capture current work and future plans of relevant groups and organisations in the region, including their strategic intents to 2030. The aim is to increase shared learning and collaboration between network members that will help tackle the challenges of climate change.
Our objectives are:
Increase the understanding and awareness of climate change risks, challenges, and opportunities within Aberdeenshire.
Encourage the use of a place-based approach when engaging with communities on how to mitigate and adapt to climate change.
Support decision-makers to contribute to the delivery of local and national commitments to climate change that mutually benefit Aberdeenshire's environment, economy, and people.
Ensure that network members are best placed, within their remit, to provide knowledge, advice, and support on climate change mitigation and adaptation action, including helping to signpost businesses, community groups, and individuals to resources, projects, and funding opportunities to deliver change.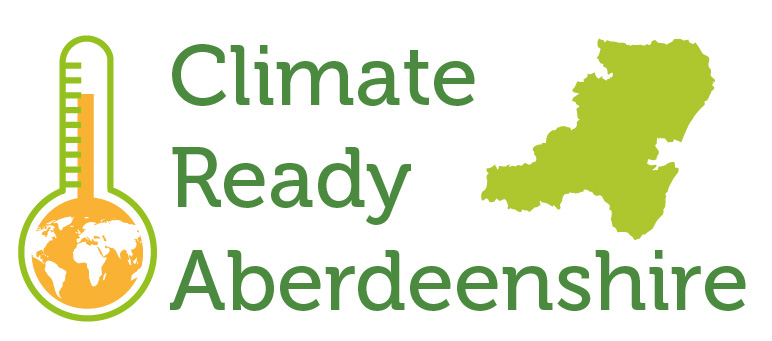 ---
Climate priority areas
Working groups were initially established for a limited period to support the development of the CRA Strategy, with an aim to bring together experts from across the network to highlight the opportunities, challenges, and gaps in work under four climate priority areas.
Adaptation and resilience
Continually adapting to present climate and weather while making changes based on future projections, in a way that increases the resilience of communities, infrastructure, and the natural and historic landscapes across Aberdeenshire.
Mitigation and net zero
Reducing or preventing greenhouse gas emissions while delivering a transition towards Net Zero that prioritises fairness and tackles inequality and injustice across Aberdeenshire. 
Protecting and enhancing biodiversity
Solving environmental and societal issues through prioritising the protection and enhancement of biodiversity, benefiting both nature and people, while contributing to climate change mitigation and adaptation in Aberdeenshire.
Sustainable economy and communities
Climate-focussed sustainable actions that benefit the region by providing opportunities to build a just, climate-friendly, low carbon economy and communities across Aberdeenshire.
---
CRA network
The CRA network currently consists of the following organisations:
If you would like more information on how to be involved, please contact sustainability@aberdeenshire.gov.uk.
---
Partnership working
We work closely with partner organisations across Scotland and Europe to strengthen partnerships between sectors, local authorities and regions which all face the challenges of climate change.
Aberdeenshire is a member region of the Conference of Peripheral Maritime Regions (CPMR) North Sea Commission.
We have shared knowledge and best practice with public sector organisations throughout Scotland through our partnership with Adaptation Scotland.
---
Climate projections for Scotland
To understand the challenges and opportunities that face Aberdeenshire, it is important to first know what to expect more broadly from a changing climate at national scale. To help capture this, the United Kingdom Climate Projections 2018 (UKCP18) have produced the projection headlines for Scotland.
Why does it matter?
Scotland's climate is already changing. The climate projections for the next century indicate that the climate trends observed over the last century will continue and intensify over the coming decades.
Scotland and Aberdeenshire's populations are changing. Scotland's population was the highest ever in 2018 and is projected to rise, with Aberdeenshire's population growing above the Scottish average.
Legislation for Public Bodies involves reporting annually on climate change mitigation and adaptation progress and reporting publicly on compliance with the biodiversity duty.
The Scottish Government has committed to being a net zero society by 2045 and reducing our emissions by 75% by 2030.
We're already seeing first-hand the impacts of the climate change crisis and biodiversity crisis on our environment and our communities – we need to prevent these situations worsening.
Adaptation, mitigation, and biodiversity: what they mean
Mitigation: reducing greenhouse gas emissions to slow or stop global climate change.
Adaptation: adjusting to the impacts of climate change to reduce negative impacts and increase resilience.
Biodiversity: enhancing biodiversity through conservation, protection and promotion.
---
International drivers and legislation
---
Funding opportunities
A variety of organisations offer funding to help tackle climate change and related issues: