Climate Ready Aberdeenshire 2020 - 2030
Climate Ready Aberdeenshire is a cross-sector initiative to create Aberdeenshire's climate change adaptation and mitigation strategy. It brings together the views and expertise of a range of diverse stakeholders from communities, public, private and 3rd sector organisations, to set out how we can work collaboratively to meet the challenges of a changing climate within Aberdeenshire.
You can find further information by visiting Climate Ready Aberdeenshire.
Aim and objectives
Our aim is a shared vision, strategy and action plan for Aberdeenshire to mitigate climate change and adapt to its impact.
Objectives:
Increase the understanding and awareness of climate change risks and opportunities within Aberdeenshire
Work with communities using a place-based approach to discover what their priorities are and how they can be supported to mitigate and adapt to climate change
Support decision-makers to make climate friendly and climate ready decisions which support the delivery of local and national commitments and mutually benefit Aberdeenshire's environment, economy and people
Provide knowledge, advice and support and link businesses, community groups and individuals to resources, projects and funding opportunities to help them mitigate and adapt to climate change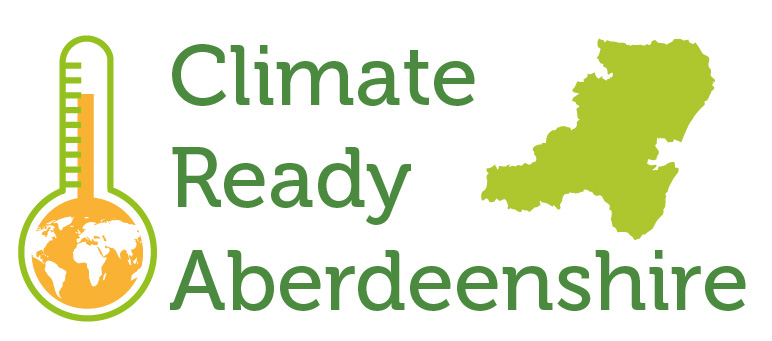 ---
The steering group
Climate Ready Aberdeenshire is governed by a steering group consisting of senior representatives from organisations throughout the North East of Scotland. The group is led by a Chair and Vice-chair and supported by a project lead provided by the initiative's sponsor, Aberdeenshire Council and is accountable to Aberdeenshire Council's Sustainability Committee.
The steering group consists of members from the following organisations:
---
Working groups
Each working group will consist of a Chair who will report to the steering group. Working groups and members are still to be confirmed.
---
Duration and milestones
View key project milestones and dates:
November 2019 to September 2020 – phase 1: establishment of Climate Ready Aberdeenshire and engagement with stakeholders and partner organisations
October 2020 to November 2022 – phase 2: develop the Climate Ready Aberdeenshire strategy
November 2021– United Nations Climate Change conference (COP26) in Glasgow
2022 to 2030 - phase 3: implement the Climate Ready Aberdeenshire action plan
2031 to 2040 – phase 4: long term delivery of Climate Ready Aberdeenshire
2045 - net zero target Scotland
---
Partnership working
Climate Ready Aberdeenshire is already working closely with partner organisations across Scotland and Europe to strengthen partnerships between sectors, local authorities and regions which all face the challenges of climate change.
Aberdeenshire is a member region of the Conference of Peripheral Maritime Regions (CPMR) North Sea Commission and provides advisor support to the Commission's Energy and Climate Change Group. This includes sharing knowledge, examples of best practice and solutions to shared sustainability and climate change mitigation and adaptation challenges across the North Sea region.
We have shared knowledge and best practice with public sector organisations throughout Scotland through our partnership with Adaptation Scotland. Some of our steering group members are also members of various Adaptation Scotland groups, including the Adaptation Scotland Benchmarking working group and Climate Adaptation Finance working group.
---
Drivers and legislation
---
Communication and engagement
If you would like any further information or would like to be involved in Climate Ready Aberdeenshire, please contact Project Lead, Tara Murray at tara.murray@aberdeenshire.gov.uk.
---
Disclaimer
Climate Ready Aberdeenshire is not a lobby group, the initiative and its members are apolitical and therefore must take an unbiased position regarding political matters.
Climate Ready Aberdeenshire can offer advice and link organisations, businesses and communities to resources, projects and funding opportunities to help them adapt. However, Climate Ready Aberdeenshire cannot offer funding for projects or initiatives.