Beaches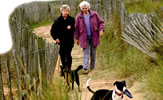 Aberdeenshire has 208 kilometres of unspoilt coastline offering stunning, often deserted, beaches ranging from long stretches of clean golden sand to dramatic rock and shingle beaches, all a haven wildlife, water sport enthusiasts, photographers, kite flyers and visitors wishing to experience the unspoilt natural coastline and all it has to offer. The quality of our beaches have been recognised by Keep Scotland Beautiful Seaside Awards with 8 holding rural award status.
Balmedie Beach and Country Park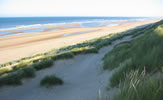 The popular beach at Balmedie has won Keep Scotland Beautiful Seaside Award for its cleanliness, quality of facilities and excellent management.
Balmedie, just north of Aberdeen, has a particularly long and wide beach of clean golden sand, bordered by grassy dunes, at the back of the beach is a substantial area of sand dunes where the principal vegetation is marram grass but which also contain a range of other plants at home in this type of environment.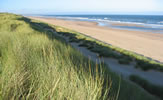 Two watercourses make their way to the sea within the area covered by the park creating ribbons of wetland vegetation along their course. It is part of the Balmedie Beach and Country Park (part of a dune system that stretches 14 miles from Aberdeen to just North of the mouth of the River Ythan at Newburgh) which has been developed to provide additional amenities for visitors including toilets, wooden walkways across the sands and streams, picnic areas and a swing park with a fishing theme for children.
A total of 1700 metres of boardwalk (made of reconstituted plastic) give access from the main car park into a sand dune environment overlooking Balmedie beach.
Beaches in Formartine area
Blackdog a sand beach with access via a track, Collieston is the first safe haven in over fifteen miles of beaches and dunes stretching north from Aberdeen.
Collieston marks a very sharp change in the landscape. Its cliffs and rocky bays extend to the north, while to the south is the huge sand dune system of the Forvie National Nature Reserve. This stretches for three miles along the shore to the mouth of the River Ythan near Newburgh. The dunes also stretch for over a mile inland, producing a highly unusual and rather alien environment. Collieston also proved an ideal location for smuggling, with many sea caves in the surrounding cliffs, and with small coves and shingle beaches. The remains of a Spanish warship lie just off the rocky point of St Catherine's Dub, near Collieston's main car park. The Santa Caterina was said to have sunk while trying to land arms to support the Earl of Erroll's rebellion. The sand and shingle beach is accessed via the harbour and has won Keep Scotland Beautiful Seaside Award for its cleanliness, quality of facilities and excellent management.
Newburgh is a large stone-built village on the wide sandy estuary of the River Ythan, close to the point at which it is bridged by the A975, beach access via a track, paths and board walks. Beyond the River Ythan lies one of the oddest landscapes in Britain. Forvie Sands comprises an area of dunes some three miles long and a mile wide. At its heart are the remains of Forvie Kirk, built in the 1100s. This is all that can now be seen of the village of Forvie, once a thriving community but buried by shifting dunes during a storm in 1413.
Beaches in Kincardine and Mearns
Stonehaven Carron a popular crescent of east-facing sand and shingle, access via a path and boardwalk has won Keep Scotland Beautiful Seaside Award.
Stonehaven Cowie a popular sand and shingle beach with access via a path and boardwalk
Muchalls a sand and shingle beach, access via steps
Inverbervie, often more simply known as Bervie, lies on a raised, curved sand, shingle and rock beach (built into steeply descending terraces by the vigorous action of the surf) behind Bervie Bay, just to the south of where the River Bervie flows into the North Sea. Access to the beach is via the caravan park
St Cyrus a sand, shingle and rock beach, access from the road
Johnshaven a shingle and rock beach, access from the car park
Gourdon a shingle and rock beach, access from the car park
Catterline a shingle beach, access from the harbour
Beaches in Banff and Buchan
Sunnyside a sand beach, access via a steep path
Sandend Bay is a popular sandy beach for families and for surfers with access via a path and boardwalk
Portsoy a popular sand and rock beach, access from the car park
Whitehills a rock beach, access via a path
Inverboyndie a sand beach with access via a path has won Keep Scotland Beautiful Seaside Award for its cleanliness, quality of facilities and excellent management
Banff a well used sand and shingle beach, access via steps
Palmer Cove a sand and rock beach, access via a slope and path
Tarlair a rock beach, access via car park
Gardenstown a sand and rock beach, access via a ramp
Cullykhan a sand and shingle beach, access via steps and a boardwalk
Pennan a popular rock beach, access via car park
New Aberdour a popular rock beach, access via a slope and a path
Sandhaven a rock beach, access from car park
Broadsea a rock beach, access via path
Fraserburgh Esplanade a popular sand beach, access from car park and has won Keep Scotland Beautiful Seaside Award for its cleanliness, quality of facilities and excellent management
Fraserburgh Waters of Philorth a sand beach, access via path and boardwalk and has won Keep Scotland Beautiful Seaside Award for its cleanliness, quality of facilities and excellent management
Beaches in Buchan
St Combs a sand beach, access via numerous paths
Rattray Head a sand beach, access from car park
Scotstown Head a sand beach, access via path and boardwalk
Craigewan a popular sand beach, access via bridge
Peterhead Lido a popular sandy beach, access via path and has won Keep Scotland Beautiful Seaside Award for its cleanliness, quality of facilities and excellent management
Sandford Bay a sand beach, access via path
Cruden Bay is the village that lies at the northern end of the two-mile arc of wide pink sands that forms the Bay of Cruden. Cruden Bay has won Keep Scotland Beautiful Seaside Award for its cleanliness, quality of facilities and excellent management
---
Share this information