Winter Photography
In winter, when the vegetation dies down, new features can be revealed by the lower angle of the sun throwing shadows across the ground, emphasising slight banks and humps not normally visible.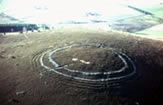 This low light photography can show up the remains of deserted settlements, rig and furrow (the remains of strip cultivation carried out in medieval times), and also prehistoric field systems.
These survive best in upland areas where subsequent land use has been sufficiently light to allow the features to survive.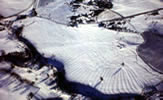 A fall of snow can create dramatic shadows and contrasts when combined with strong, low-angled sunlight.
Snow photography is especially good for showing up prehistoric field systems and round houses, as well as medieval rig and furrow
---
Share this information