Kinord Cross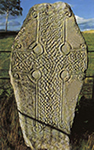 Kite-shaped slab with excellently preserved interlace-filled cross carved in relief on one surface. Note the small scroll ends to the arms of the cross and the absence of symbols; this is a purely Christian monument from the end of the Pictish period, sometime in the 9th Century.
Directions
Grid ref: NO 440 997 - Ordnance Survey Landranger Series sheet no.s 37 & 44
c 6 miles W of Aboyne. Turn N off A93 onto B9119 at Dinnet. In 1 mile turn W, enter Nature Reserve and walk. Stone overlooks Loch Kinord c I mile from turning.
---
Share this information