Pictish Symbol Stones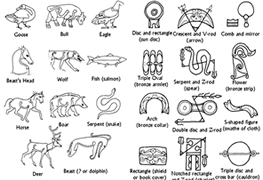 Aberdeenshire formed one of the heartlands of the northern Picts between the fourth and ninth centuries AD.
The Picts are known chiefly for their elaborately but regularly decorated memorial stones found in profusion throughout eastern Scotland from Shetland to the Firth of Forth. However, much more is actually known about them than that.
Society
Militaristic and aristocratic, their society had several grades, including cavalry and footmen, a peasantry, part of whom was bonded to the land, all ruled by tribal chiefs and kings. The origins of this society lie in the Celtic Iron Age of the area.
Symbol Stones
The symbol stones are decorated in a structured way with a series of animal and object symbols current in late Roman Iron Age times (third/fourth centuries AD) - mirrors, combs, cauldrons, geese, hounds.
5th - 7th Century
They were erected from perhaps as early as the fifth century AD but were chiefly in use in the sixth and seventh centuries. The early series consist of untreated boulders with the decoration incised on the surface. (Picardy Stone; Kintore Kirkyard; Crichie; Brandsbutt).
7th - 8th Century
In the seventh or eighth centuries, simple cross-incised stones which were most likely grave-markers, indicate the arrival of Christianity in Aberdeenshire (for example Tullich). A later series of symbol stones, dating from the eighth centuries, are more finished, being carved in relief on treated slabs, with, on one face, a cross, perhaps for use as part of a preaching site (for example Maiden Stone and Migvie).
9th Century
There is also a series of later (ninth century) monuments, without symbols, in which the cross is the sole decoration (Kinord).
Inscriptions
A few of the Pictish stones have inscriptions in ogham, an alphabet of combinations of short strokes invented in Ireland before the 4th century AD. The stones with early oghams (using the angle of a stone as the baseline) are not accompanied by symbols (for example Newton House), but the later examples are accompanied by symbols (for example Brandsbutt Stone).
Locations
For more suggestions of sites to visit, view our guide to 10 of the best Pictish Stones in Aberdeenshire (PDF 3.59MB).
Pictish Symbol Stones can be found across Aberdeenshire, details of some are included on the list below: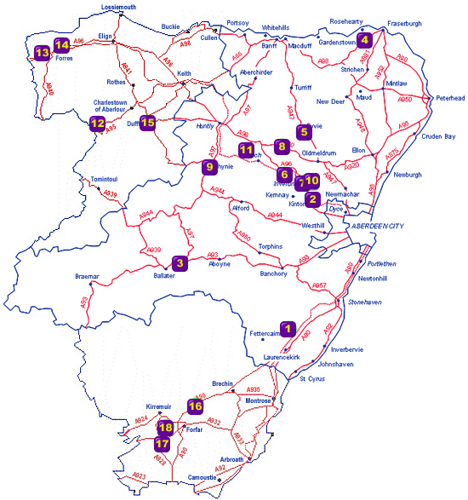 5 miles N of Laurencekirk, In S end of Auchenblae, W of the A94: in the church with the tower.
In centre of Kintore. Stone stands inside gate of kirkyard.
    Kintore Pictish Stone     by Aberdeenshire Council Archaeology Service     on Sketchfab
 Please note: if using Internet Explorer, the full functionality of the 3D model may not work.
About 6 miles W of Aboyne. Turn N off A93 onto B9119 at Dinnet. In 1 mile turn W, enter Nature Reserve and walk. Stone overlooks Loch Kinord about 1 mile from turning.
On A98 about 5 miles SW of Fraserburgh and just under 1 mile S of junction with B9032, stone in church to S of road.
8 miles S of Turriff turn N off A947 onto B9005, at Fyvie. Church is at SE corner of Fyvie, at a right-angled bend.
5 miles NW of Inverurie on minor road running S of A96 from Oyne fork in W to Drimmies in E. Stone stands on bend: park in lay-by about 20m W of the stone. Now cared for by Historic Environment Scotland, covered during the winter months.
    Maiden Stone Interactive 3D Model     on Sketchfab
In S end of Inverurie. Turn off the A96 at south end of Inverurie by-pass, cross the Don and turn right onto B993. Go under railway and stop at cemetery; stones in W end of cemetery, between the gate and the Motte (Bass).
10 miles NW of Inverurie on A96 1/2 mile N of Old Rayne turning, turn N at lodge and follow drive to Newton House. Call at house for permission and further directions.
8 miles S of Huntly. At the South end of Rhynie, turn E off A97 onto narrow track which runs for - mile down hill to the old kirkyard. 3 stones stand in a small enclosure in the graveyard carpark.
Signposted at north end of Inverurie by-pass (A96) off Burghmuir Drive (which links Blackhall Road and North Street): turn up Brankie Road; the stone is at the corner of Gordon Terrace.
    Brandsbutt     by Aberdeenshire Council Archaeology Service     on Sketchfab
Please note: if using Internet Explorer, the full functionality of the 3D model may not work.
12 miles NW of Inverurie. In N end of Insch, turn NW off B992 onto minor road, sign-posted Largie. Stone stands on S side of tree-lined track 2 miles NW of Insch, 500 m beyond turning for Largie.
6 miles SW of Aberlour. On A95, 1 mile S of junction with B9138, turn W (right) down track to Church, Stones are mounted on outside S wall of church.
3 miles W of Forres, turn N off A96 for Brodie Castle. Stone is in Castle grounds in the care of The National Trust for Scotland.
Turn N off A96 at E end of Forres. Stone is 150 m down B9011. Park beside the stone. The stone is covered by a large glass case.
In the Square in Dufftown, turn S to banks of Dullan Water; or on entering Dufftown from E On the A941, fork W (left). Signposted.
Two sites to visit here. First adjacent to B9134 (by the school) at Aberlemno. The second is in the kirkyard in the centre of the village, S off the B9134. Covered during winter months.
In front of the manse, on Kirk Wynd, adjacent to St Fergus's Church at N end of Glamis Village.
Minor road leads E off the A928 towards Cossans Farm, then use footpath along disused railway line.
---
Share this information