Carved Stone Balls
An important, if enigmatic, type of ceremonial object which was well represented in the North-east around 2500 BC, is the carved stone ball. Of the more than 400 known, most have been found between the Rivers Dee and the Deveron- the heartland of Aberdeenshire.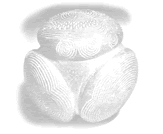 The size of a tennis ball, usually with six protruding knobs, they are sometimes more elaborately decorated with spirals or plastic ornament which is similar to Grooved Ware, a type of late Neolithic pottery not known in the north-east but common in Orkney and Fife. They were clearly well-looked after by their owners to whom they must have conveyed status and prestige.
The image seen here is of the stone ball found at Towie, Strathdon, which is one of the most highly decorated of the balls, with a complex pattern of spirals and concentric designs. It may be seen in the Museum of Scotland in Edinburgh.
---
Share this information