If you are a Landowner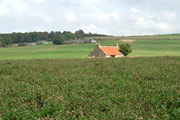 Landowners are the custodians of the historic environment in which we live. It is important that the archaeology is looked after as it is part of the collective history of the area and allows us to understand our past.
We encourage you, as a landowner, to find out more about whether you have archaeologically significant sites on your property. You can do this in the first instance by visiting our online Historic Environment Record (HER), which will provide you with a summary of the archaeology.
Further guidance on managing archaeological sites can be found in Archaeology Scotland's Rural Guides.
If you have an archaeological site or an artefact that has been found on your land then please contact us so that we can add it to the HER.
Should you wish more information on any sites on your land, advice on how to manage them, or to report a new site or artefact then please contact us at archaeology@aberdeenshire.gov.uk
---
Share this information