Balmedie Country Park
Balmedie Country Park is situated on the coast, approximately 8 miles north of Aberdeen. It is made up of beach, sand dunes, heath land, and wooded areas, connected by a series of paths and boardwalks.
The sand dunes form part of a 15-mile dune system of local and national importance, stretching from the Donmouth Local Nature Reserve at Aberdeen to the Forvie National Nature Reserve at Newburgh.
Balmedie Country Park is a popular place for local people and visitors alike including walkers, dog owners, horse riders and runners who enjoy the flat, sand beach and dunes.
Barbecue stands, picnic tables and waste bins are provided, though visitors are asked to take rubbish home.
Balmedie Country Park is a wonderful natural playground for children of all ages and also has a constructed play park with a range of equipment, including an inclusive roundabout, funded, and installed by Belhelvie Community Trust.
In 2021 Balmedie Beach was given a Visit Scotland's Beach Award for excellence in access, facilities and safety, local environmental quality, and community and heritage.
View Balmedie Country Park map (PDF 2MB).
View Balmedie Country Park management plan 2023 - 2027 (PDF 988KB).
Pathways
Depending on the weather you can take a leisurely stroll through the park, or more bracing walk on the beach.
There are 5 recommended routes within the country park:
Beach Walk Access to all (600m)

Marram Grass route (800m)

Ice House route (1.7km)

Horse route (500m)

Thyme walk (3.5km)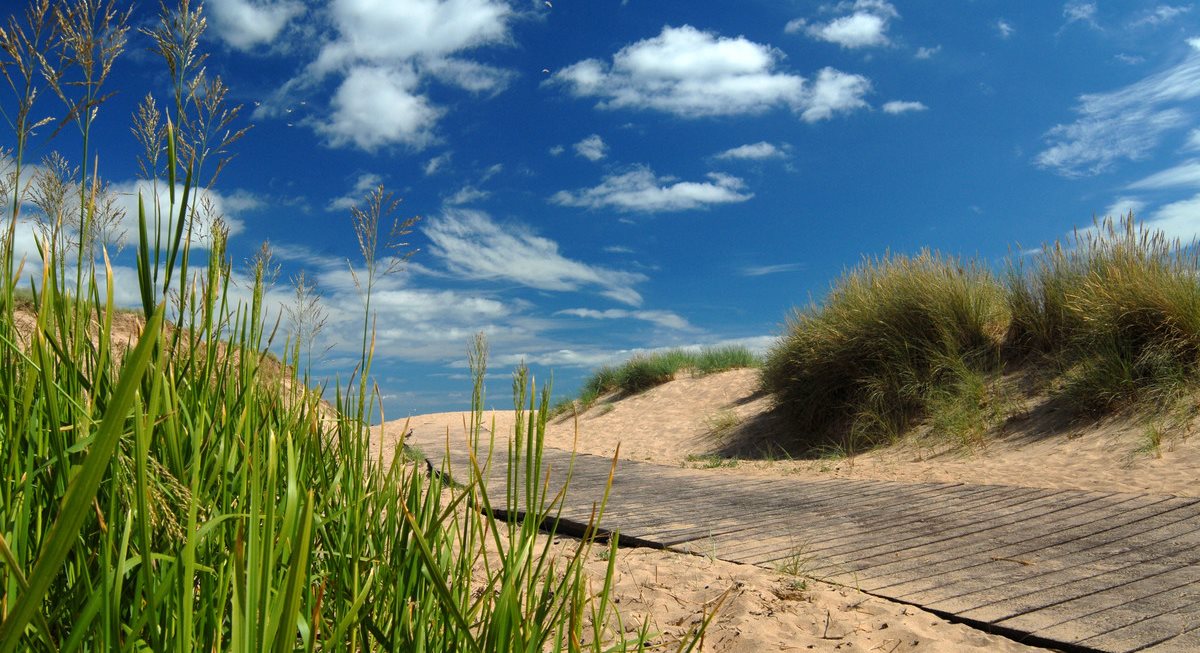 ---
Ice House
In the 19th and 20th centuries, salmon fishing was a common occupation on this coast. Fish would be stored in Ice Houses until taken to market. One of these ice houses still exists in Balmedie dunes. Depending on the tide, you may also see the remains of fishing poles on the beach.
---
Sand Dunes
Balmedie sand dunes are part of 15 mile dune system that is of local and national importance. It stretches from the Donmouth Local Reserve at Aberdeen to the Forvie National Nature Reserve at Newburgh. The fore dunes near the sea are constantly shifting whilst the rear dunes are more stable.
---
Pill Boxes
18,000 pillboxes were constricted in the UK in 1940. There are four remaining pillboxes on Balmedie Beach. They are concrete dug-in guard posts, normally equipped with loopholes through which to fire weapons. Anti-tank blocks were also placed along the beach, in anticipation of enemy attacks from the sea. These can still be seen at the foot of dunes on the beach.
---
The Sand Bothy
The Sand Bothy is open from April to October during Saturday and Sunday afternoons, selling ice cream, hot and cold drinks, and snacks to take away. It was awarded 3 stars by Visit Scotland in 2018 and 2019. 
The Sand Bothy was formerly the office of Balmedie Beach Ranger service. When this service was reduced, the building lay empty for over 10 years. It has been refurbished and reopened by Belhelvie Community Trust and is run by volunteers. 
---
Shipwrecks
Over the centuries, very many ships have been wrecked or run aground in accidents and storms off the coast of North East Scotland. They included a wide range of vessels, military, fishing and cargo including cal and timber.
---
Balmedie Beach Wheelchairs
Balmedie Country Park is also the home of Balmedie Beach Wheelchairs, an innovative project which allows people with disabilities, their families, and carers to access the wonderful beach. 
---
Opening times
Balmedie Country Park, including its children's play park, is open from dawn to dusk all year round. 
---
Parking
Free parking is available at the entrance to the park, including an area for vans, buses, and horseboxes.
---
Toilets
Public toilets are available (main car park), including a refurbished disabled facility with an adult size changing table, ceiling mounted hoist and wheelchair accessible sink.
---
How to find us
Balmedie is approximately 8 miles north of Aberdeen and 8 miles south of Ellon, on the east cost of Aberdeenshire.
Balmedie Country Park
Balmedie
AB23 8XG