Formartine and Buchan Way
Some paths may be closed for safety reasons or works. View details of path closures and updates on path project works.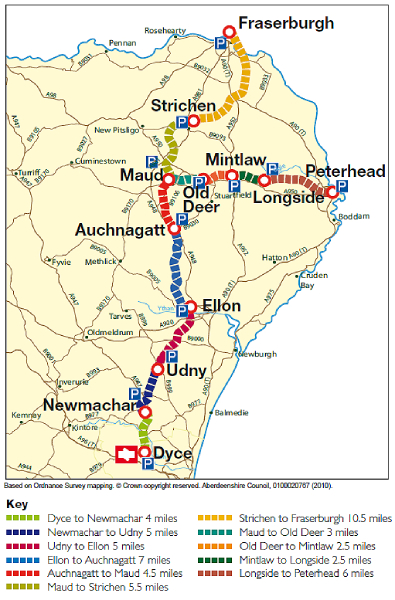 The Formartine and Buchan Way has been justifiably designated as one of Scotland's Great Trails. It is an impressive, safe pathway suitable for all abilities of walkers, cyclist and horse-riders.
The pathway uses the former railway line linking from Dyce, on the edge of Aberdeen in the south, to the village of Maud where it splits into two routes; eastwards to Peterhead and northwards to Fraserburgh.
The route is an impressive 53 miles in length, is entirely off road and relatively flat, however it passes through such a varied and interesting landscape that the outlook is constantly changing and the journey never boring.
View the Formartine and Buchan Way information pack (PDF 1.5MB), which provides lots of detail to help you make the most of this great trail, including some history of the former railway line and information about the towns and villages along the route. Please note that information given on route cards about local services may not be current. We would recommend you check availability ahead of time to avoid disappointment.
A set of eleven route cards accompany the information booklet and these provide more detailed information about short, easy to manage sections of the route:
---
Share this information