Cashless Parking
Parking charges are to be reintroduced at pay and display car-parks from week beginning Monday, 4th January 2021.

Cashless Parking lets you pay for your parking without using a machine. The service provided to Aberdeenshire Council, by RingGo, is available in all Aberdeenshire Council 'Park and Pay' car parks.  
Check details of all RingGo parking locations.
If you wish to take advantage of the free parking periods available at relevant Aberdeenshire sites you must still obtain a ticket from the machine and display it throughout your stay.
When you park in an area featuring the RingGo service, you simply contact RingGo by smartphone app, calling, SMS or on-line, and pay for your parking. Smartphones will automatically pick up your location using GPS if enabled. 
View car parks privacy notices.
Benefits of Cashless Parking
There is no need to carry change
You do not have to use a parking machine (other than for free parking)
There is no need to  return to your vehicle to display a parking ticket – Car Park Operatives check which vehicles are parked with RingGo using handheld units.
You can remotely top up your parking fee. Simply contact RingGo again if you want to extend your stay.
Once registered with RingGo you can use this service at participating local authority car parks across the UK including 

Aberdeen City Council, 

Dundee City Council, Perth and Kinross Council, Edinburgh City Council, Glasgow City Council and Scottish Borders Council.
You have the option at registration, or by changing your account settings, to opt out of text messages (15p charge for each text) for confirmation of your parking session and/or reminder text that your parking session will soon expire. 
How do I register with RingGo?
You can pre-register using the RingGo smartphone app, downloadable free of charge either through your handset from the relevant app store, or via RingGo's registration page.
You will be asked to provide:
Your vehicle's registration, make and colour

 

(you can add multiple vehicles, have a default vehicle and change vehicle details by signing into your account online and visiting RingGo's vehicle page)
Your payment card details
Alternatively you can register when you park, using the RingGo app or by calling RingGo on 0345 559 5959.
Paying to park with RingGo – Information
Once registered, RingGo recognises your mobile phone number and uses the information you gave previously. So you only have to provide:
The length of time you want to park
Your payment card's three digit security code
The location code where you are parked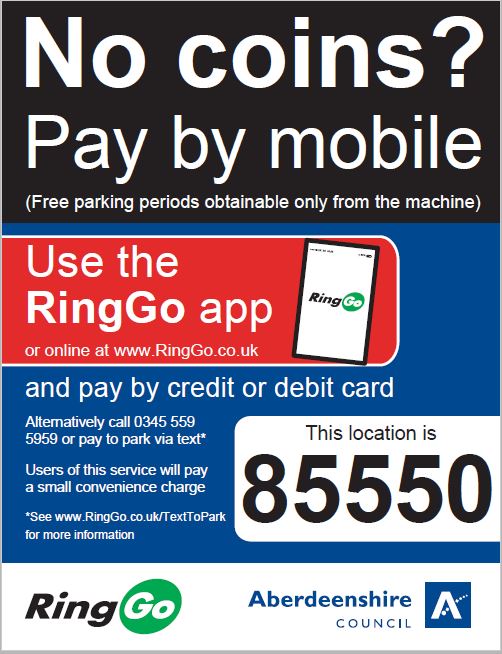 You can find the location code by:
finding the code on the sign on site (the illustration shows the location code 85550 for Broad Street in Peterhead)
viewing our list of RingGo location codes
For more information on how to register and pay visit the RingGo website. 
All card payment details are stored securely and will not be disclosed for any purpose other than Cashless Parking.
Parking with RingGo – Ways to pay
You can pay to park with RingGo by:
Smartphone app
Calling the phone service
Text message
Through the internet (either via a mobile or PC)
Using the special RingGo Corporate solution for business
Smartphone app
iPhone, Android, Windows phone and Blackberry 10 users can download the RingGo app free of charge from the relevant store. The app allows you to register for the service, locates your nearest RingGo zone, lets you manage your account and pay to park.
Click on the links below to go the relevant app store: iPhone - Apple iTunes store Android - Google play Blackberry 10– Blackberry world Windows– Windows store
Automated phone service
To use the service, call the telephone number on the signs when you want to park. RingGo will recognise your mobile phone number and ask you to confirm:
Which vehicle you want to park (you can have more than one vehicle registered)
Where you want to park
How long you want to stay
Your payment card's three figure security code
Text to park
To pay by text, send a message to 81025 containing the location code, duration and your card's security code. For example '85568 1h 867' to park for up to one hour in Market Place, Inverurie.
Obtain more information on how to use the text service or set up the service for your location. 
Internet options
If you have a device with internet access, you can pay through the myRingGo site. Complete the details on RingGo's park page. Visit RingGo's Website for more information. 
Extending your parking session
You can remotely top up your parking fee when you use RingGo, simply by contacting RingGo again if you want to extend your stay. The system will recognise you as having a current parking session and will ask you:
How long you want to extend your stay
Your payment card's three digit security code
RingGo Corporate
RingGo Corporate is a service designed for business employees. It saves time and effort by allowing businesses to set up a prepaid account, which nominated employees can use when parking for business. There's no need for employees to know company credit card details or pay and claim. They also get alerts when their parking is about to run out, reducing the risk of receiving a parking charge notice. Find out more information about RingGo corporate. 
How much does RingGo cost?
There is no charge for registering with RingGo or for downloading or using the RingGo applications.
There is a 10p charge for parking using RingGo in Aberdeenshire each time you pay for a ticket.
Calls to RingGo are charged the standard rate agreed with your mobile phone operator and are often included free within mobile phone packages, so if you receive a free "bundle of minutes", your call will usually be included within this.
If you use the RingGo "text to park" option, you will pay for the outgoing text message at your agreed operator rate.
The optional parking session confirmation messages and reminder texts, alerting you when your session is about to run out, cost 15p per message.  You must opt out of receiving these alerts when you register or by changing your account settings if you do not want to be faced with these charges.
These extra charges are paid to RingGo.
Can I get a VAT receipt?
If you need a VAT receipt for your RingGo parking session, you can view and print it online. You can also opt to receive a receipt automatically every time you park. Just login and add your email address into the Settings menu.
More information on RingGo
Visit RingGo's website for general information about RingGo. If you have specific questions about the system visit RingGo's help section. 
---
Share this information