Banff Harbour
Average High Tide Variation: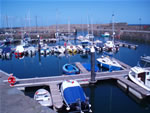 1 hour 25 minutes before Aberdeen
Latitude 57º 40'N
Longitude 02º 31'W
Admiralty Chart
No. 1462
Duty Harbourmaster 
Harbour Office
Quayside
Banff
Tel: 07747 020496
General information
The harbour was created when the mouth of the river Deveron became impossible to use as a harbour due to shifting sand banks.
Rocks were cleared from Guthrie's Haven, (the current inner basin) in 1625 and in 1770 John Smeaton was commissioned to make improvements. This was followed by Thomas Telford in 1818 who designed the lighthouse quay thus creating the outer harbour.
A former fishing and cargo port, now used as a recreational harbour. Offers excellent facilities to both regular and visiting users. The two inner basins can accommodate 76 boats on fully serviced pontoon berths and 16 boats on traditional drying out moorings. These include a mixture of fishing type boats, yachts, cabin cruisers and pleasure boats.
The outer basin offers adequate berthing and tidal berthing for regular users on drying out moorings. This basin is tidal restricted for access. Fresh water is available on two quays and a small repair/painting pad is available at the top of the middle basin.
There are two storage compounds, one of which has the possibility of crane access for removal and emergency repairs. Winter storage is available for regular users only.
Banff - Population 4200
Banff is the former county town and a Royal Burgh, having received its charter from Robert the Bruce in 1324.
Its history stretches back to the 12th Century when it was one of the important Hanseatic trading towns.
Harbour depths
The harbour access is tidal matching the tidal depths of the River Deveron estuary providing an access depth of Chart Datum. You are advised to contact the Harbourmaster to confirm adequate depth for access.
The outer basin is tidal with the exception of the access channel along the East Pier that is also Chart Datum.
The inner basins provide floating berths with matching access at depths varying from 1.8m below Chart Datum in the 10m berthing area to 0.7m below Chart Datum.
Harbour contact on Marine Band Channel 12, during normal working hours.
Facilities
river fishing
sea angling and pleasure trips
championship golf course
tennis
putting
bowling
indoor swimming pool
beach
caravan site
castles
library and museum
post office
banks
garages
hotels
cafes
two supermarkets
shops
The Banff Sailing Club has shower facilities and warmly welcomes visitors in the clubhouse.
---
Share this information