Ready2Go around Inverurie
Ready2Go around Inverurie is operating on a trial basis which will end after Saturday, 1st April 2023. This will be the last day the service operates.Some timetabled bus journeys will be reinstated in the Insch and Rothienorman areas when Ready2Go is withdrawn. Further details will be provided when available.
Ready2Go operates in the Inverurie area including:
Inverurie
Insch
Kemnay
Kintore
Monymusk
Oldmeldrum
Rothienorman
The service operated by Watermill Coaches using minibuses marked with the Ready2Go branding.
Operating times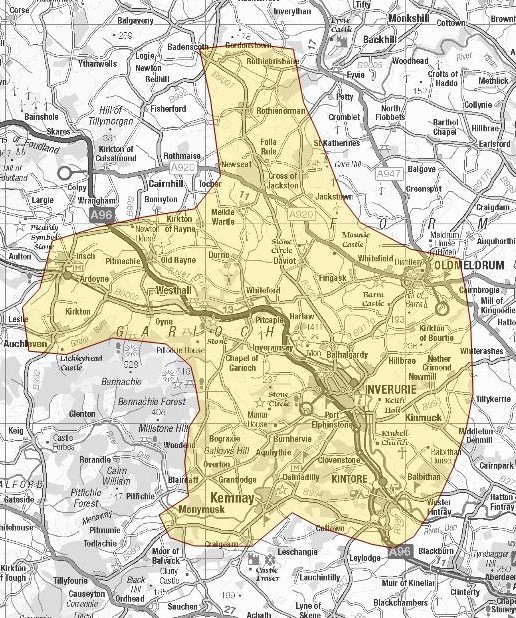 The Ready2Go service times are:
6:30am to 7:30pm on Mondays to Fridays
7:30am to 6:30pm on Saturdays
The service doesn't operate on Sundays, 1st January, 2nd January, 25th December or 26th December.
Wheelchair, mobility scooter and pushchair access
Buses are wheelchair accessible, for one wheelchair at a time, with ramp access. If booking using the app please look for the wheelchair symbol and choose "1 passenger, accessible vehicle" if you or your companion are travelling in a wheelchair.
Lightweight Class 2 mobility scooters may be carried but please call 01467 535 333 before travelling for the first time to make sure your scooter is suitable.
Pushchairs can be taken but they might need to be folded. The buses are not suitable for bikes unless they can be folded.
Drivers may provide passengers with assistance in boarding and alighting the vehicle.
Fares and tickets
Fares are based on zones and are to be paid to the driver once on the bus by using cash or contactless card payment. A range of ticket types is available providing discounts for regular passengers as set out in the fares and ticketing page. These are some of the most popular Adult Single fares:
In Town (Insch, Inverurie, Kemnay, Oldmeldrum) and in Zone 3 (Monymusk area) £1.60
Zone 1 (includes Kintore and Kinmuck) to Inverurie and within the zone £3.70
Zone 2 (includes Kemnay and Burnhervie) to Inverurie and within the zone £2.60
Zone 3 (includes Monymusk) to Inverurie is

£3.70 

and within the zone is £1.60
Zone 4 (includes Insch, Oyne and Pitcaple) to Inverurie and within the zone £4.20
Zone 5 (includes Rothienorman and Oldmeldrum) to Inverurie and within the zone £2.60
Additional fares apply for travel to and from other zones. Call us on 01467 533080 to find out the fare for your journey or view all the adult single fares in a table below.
Return tickets bought on services 421 (Inverurie – Alford) and 49 (Inverurie – Ellon) are accepted on Ready2Go. We do not accept Stagecoach DayRider, MegaRider, weekly or 4-weekly tickets.
Drivers sell and accept GrassHOPPER tickets.
---
Share this information