Travel Plan - Human Stories
A Travel Plan for Aberdeenshire promotes sustainable travel within Aberdeenshire. It seeks to emphasise choice and the benefits available to people. This page highlights the stories of Aberdeenshire Council staff who travel by sustainable means and what benefits they feel are gained from these choices.
You can also watch our You Tube Channel, promoting sustainable travel, by clicking the logo below.
Andrew Fyffe on Walking: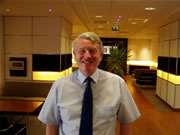 "I don't like taking the car for short journeys.  I can get to my work walking in 20 minutes.  I only take the car in inclement weather.  Plus walking is good for general health."
Stuart Aiken on Cycling:
"Firstly, it helps me relax.  I also like the feeling of being healthy.  I also like fresh air. I have been cycling for over 30 years now and I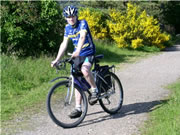 can't see any reason not to continue. Cycling to work is just a way for me to combine something I've enjoyed for years with something that I need to do (get to work)."
Small behaviour changes make a big difference.
David Jason on Car Sharing:
"You tend to notice you haven't been to the petrol station for a while."
"With car sharing you retain a sense of the control you might lose if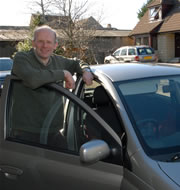 reliant on public transport." 
"It's natural to be dubious but just give it a go!"
"It works for us."
Find out more:  www.carshareaberdeenshire.com
Joanna Stewart on Car Sharing:
"I car share to work 4 times a week. For me I like to have someone to chat to during rush hour and it is nice to know I am helping my friend save money on petrol."
Philip McKay on Public Transport: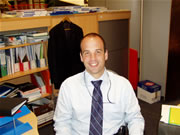 "I hadn't used public transport for 10 years but was pleasantly surprised by the efficiency of my trip into Aberdeen for a recent meeting."
John Masterton on Cycling:
"It's a great way of getting out with the kids and importantly, getting them away from the TV and getting some exercise."
Shelagh Morrison on Public Transport:
"Living in Aberdeen, taking the bus to work is easy for me. It's low in cost and gives me time for reading a book!"
Mel Greig on Cycling:
"My husband and I both cycle to work.  He drops our little boy off at nursery using a cycle trailer and I pick him up on the way home from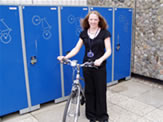 work.  He's out of the weather and can read his books.  This makes him a superstar at nursery,  he's like royalty waving at everyone.  I cycle 6 miles in all.
People said once you have kids you'll need a car for everything.  You don't, you just need to think about things a bit harder.
When you're in a car, the weather seems worse – once you're out in it, it's not that bad.
This way we all get around, exercise, save time and money on gym fees."
Mark Peters on Car Use:
"Most of the time I use my car but I do occasionally car share or use public transport. For shorter journeys at home, such as taking my daughter to school or going to football, I like to walk or cycle as it provides an opportunity for exercise that isn't possible when driving."
Catherine McConnell on Cycling
I work at Aberdeenshire Heritage HQ at Mintlaw and live in Ellon, and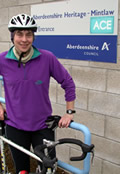 it takes me about an hour to cycle to work by the back roads, plus or minus up to ten minutes depending on wind direction and how energetic I feel. Usually I take the bike in the car one day and cycle home, and do the reverse the following day, so I still have the car if I need it during the day at work, and can do my food shopping on my driving days. Occasionally I cycle in both directions, and I hope to do that more often this summer. I do it mainly because I enjoy the cycling – I can look out for hares and peewits, and say hello to the cows - but I also save a lot of petrol and keep fit in the process.
If you have a story about travelling by sustainable means please get in touch. You could help champion A Travel Plan for Aberdeenshire.
Contact Us
Telephone: Travel Planning Officer, 01224 664773.
---
Share this information