Ellon Resource Centre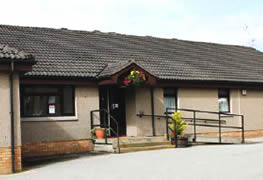 About the centre
Ellon Resource Centre provides a day service to people with learning disabilities who live in Ellon and the surrounding area. We can provide a service for up to 30 people per day. Our building is designed to give ease of access to people with a disability.
We aim to meet your needs through programmed activities and work experience within your local community. We aim to provide you with the individual level of support and care you need to help you develop and work towards your personal goals.
You have the opportunity for personal development in the areas of social, physical and mental wellbeing.
The centre can offer you:
work experience
training opportunities
leisure activities
social activities
educational activities
life skills
therapeutic activities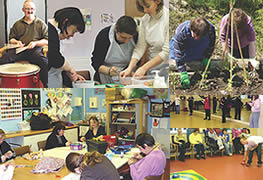 Our day service provision is not confined to the Centre. Wherever possible we use community facilities and resources. Group and vocational activities are used to help self-advocacy, confidence building, assertiveness and other social skills experiences.
Opening times
Ellon Resource Centre is open from 9 am to 4 pm Monday to Friday. 
Lunch time arrangements
Lunch can be taken between 12 o'clock and 1pm. Our staff are on duty to help you if you need any help.
Food can be bought daily within the day centre or you may prefer to bring your own packed lunch or food flask.

We promote healthy choices - we have been given the Healthyliving Award. 
User consultation groups

We encourage users of the centre to make decisions about the activities you would like to do and about how your day service is run.
You can join our service user consultation group to share ideas, make suggestions and talk about any problems at the centre.
We also hold service user meetings every six weeks. Everyone who uses the centre can go to these meetings. You can ask questions and share your views about the centre. 
Training projects
We also support two therapeutic and vocational training projects:
Ellon Can-Do Community Recycling project
Ellon Can-Do Community Recycling is a training project giving adults with learning disabilities the opportunity to gain work experience in a safe and supported environment. It runs five days a week, collecting and recycling aluminium drinks cans from the local area.
There are opportunities to do different jobs during the week, like:
going out in the van to collect cans
sorting at the table
weighing and recording the bags of cans
keeping the unit clean using the power washer
washing the van
Project workers are trained by the staff to use the machinery safely, and to use appropriate personal protective equipment.
Project workers are able to increase their confidence and build on their skills while carrying out a worthwhile job in the community. They also learn to travel independently to and from work using public transport.
For more information about the project, please call 01358 722517.  
Benchmark Woodwork project

Benchmark is a work project for adults with learning disabilities, making quality garden products and furniture from new and recycled wood.
The project aims to:
reduce social exclusion
promote employment and vocational training
provide realistic training opportunities by operating as a small business
The training provided includes:
health and safety in the workplace
lifting and manual handling
assertiveness
working in teams
safe use of tools and equipment
woodwork skills
For more information about the project please phone 01358 729999 or download our leaflet:
Contact us
If you want to find out more, you and your carer can arrange to visit the Centre. You might also wish to visit our training projects.
Contact us to arrange a visit or if you have any further enquiries:
Ellon Resource Centre 
29 Station Road
Ellon
AB41 9AE
Telephone: 01358 281141  
Become a volunteer
Why not be a volunteer? Everyone has something to offer.
If you have spare time that you would like to put good use the Ellon Resource Centre could be just the place for you. There are a wide range of volunteering opportunities helping in group activities such as:
swimming
crafts
gardening
one to one support within groups
adult basic education
job club
befriending
Ellon Community News
driving the minibus
Or you may prefer to volunteer at one of our training projects.
Read our Volunteer handbook for more information about volunteering at Ellon Resource Centre:
If you would like to volunteer contact us.

---
Share this information