Willowbank Day Service
About the service
Willowbank Day Service provides a service to adults with a learning disability, autism and multiple disabilities living in Peterhead, Mintlaw and the surrounding areas. Willowbank is situated in the country. You can access the open space and the large grounds at regular, unplanned intervals throughout the day.
The services are designed to help meet the needs of adults with disabilities within their local communities. These services can be delivered from the day service base, through projects or in the local community.
We aim to help people using the service to develop the skills and confidence to realize their potential. For many people this means moving on to community based opportunities. For people with more complex needs, day services can be given on a longer term basis.
We are always looking to enhance the service we provide, and are always looking for members of the local community who would like to help within one of our projects, or within the day service. There are a wide range of opportunities available if you are interested in being a volunteer at Willowbank, or within one of our projects. If you would like more information, or want to volunteer please contact us.
Activities and opportunities
Willowbank Day Services offers a range of activities and opportunities. We use community facilities and groups as much as possible to meet your needs.
Willowbank can help you access:
leisure activities - such as swimming, horse riding, boccia, keep fit sessions, art, crafts, sewing groups
social activities - outings, community activities such as tea dances, coffee mornings, school concerts
educational groups - such as computer sessions, literacy group, Makaton groups which help people use signs and symbols to aid their communication
drama sessions
travel training - helping you gain the confidence to travel independently and to be able to use public transport if you need to
life skills - such as tasks in the kitchen or coffee bar, laundry tasks, Confidence to Cook, use of the community flat, going to the cinema and shops
various therapeutic activities - combining touch, music and trampolining to promote communication, social interaction and sensory development
Willowbank projects - activities for developing self confidence, team work, learning and maintaining new skills, as well as training for moving on to voluntary positions or employment
voluntary opportunities – we can give some support to help people access voluntary opportunities in the community
Activities are used to promote well being, self-advocacy, confidence building, assertiveness and other social skills.
Various communication systems are used to support people who have limited or no verbal communication or a hearing impairment.
Our staff can help you with your physiotherapy and occupational therapy programmes. They can help you use any specialist equipment you have been assessed to use, such as stand aids.
If you need a 'base' you may benefit from having a dedicated area where you can start and finish your day, or you can use the area for certain tasks. Various pictorial time tables and pictures can be developed to help you have structure to your day, making your day less stressful and more meaningful.
We work closely with the Specialist Health Care team and social workers to make sure a programme is devised to meet your needs.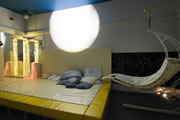 You may not need to use our day service, but might benefit from using our snoezelen (multi sensory room) or our trampoline with your own one to one support. You can apply to use these resources, please contact us for more information.
Opening times
Willowbank is open Monday to Friday, from 08.45 am to 4.00 pm.
We close to people who use the service at 2 pm on the first Monday of each month to allow staff to go to a staff meeting. We also close four days a year to people who use the service to allow staff to do training.
Willowbank closes to everyone for holidays for one week in April, one week in October and for two weeks over the festive period during December.
Lunch time arrangements and breaks
Soup and a sweet are available to buy at lunch time, or you can bring a packed lunch. Or you can have your lunch at one of the local cafes and restaurants instead.
A selection of hot and cold drinks and snacks can be bought from our coffee bar. The coffee bar is open to the public on a Thursday afternoon.
There are also opportunities for people using the service to complete their Elementary Food Hygiene Certificate.
Projects
We have seven projects which people using the day service can take part in, producing various products and helping you to develop and learn new skills. The projects are:
Some people use the projects as training opportunities with a plan to developing skills to move onto other opportunities. Some people access the projects as part of their daily activities.
The projects are based on the grounds of Willowbank, except Glendaveny Bears which is based in Peterhead town centre and Aden Country Park gift shop which is based at Aden Park, Mintlaw.
For more information about any of these projects, please contact us.
Glendaveny Bears

The Glendaveny Bears project makes high quality, traditional, hand crafted mohair teddy bears. We have a shop in Broad Street, Peterhead where the bears are made and sold by people using the day service.
There are different tasks for people to do in the project to help their co-ordination and to develop, or maintain, their sewing skills, such as:
cutting out the mohair from the patterns
tacking the pieces together and unpicking the tacking
teasing out the stuffing for the bears
There are also other jobs that need to be done at the shop, including:
serving customers
answering the phone
making the tea and coffee
collecting the tea money
placing orders at Buchan Embroidery
taking packages with bears to the Post Office
Visit the Glendaveny Bears website to learn more about the project and to see the bears available for sale. Or find the project on Facebook.
Coffee Bar
People using the day service can take part in this project and get involved in a variety of tasks, such as:
preparing a selection of hot and cold drinks
making snacks such as toast, scones and home bakes
serving customers with their snacks and lunches
using the dishwasher
clearing tables
operating the cash till
Glendaveny jams and preserves project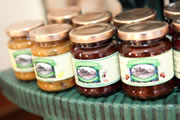 This project makes a selection of homemade jams and chutneys, which are sold to various retail outlets - including farm shops, high street shops and hotels.
There are different jobs that people can get involved in with this project, such as:
washing and preparing the fruit and vegetables
cutting and chopping the fruit and vegetables
weighing out ingredients
stirring the chutney and jams
printing out labels and labelling the jars
preparing orders for dispatch
Glendaveny garden furniture project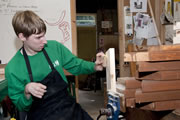 Glendaveny garden furniture project has a purpose built workshop on the grounds of Willowbank. The workshop has the appropriate machinery and tools to allow people who use the day service to make high quality garden furniture.
The furniture is sold from Willowbank and at our plant sale. Furniture is also made to order throughout the year.
There are different tasks that people involved with this project can do, such as:
collecting the wood from the store
measuring
cutting the wood to size
assembling the product
sanding wood
painting the wood
drilling holes
Glendaveny kindlers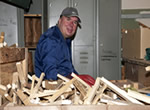 Kindling is made for coal fires using recycled pallets which have been donated by local companies.
People taking part in the project can do different tasks, such as:
de-nailing the pallets
sawing the wood
chopping the wood into kindlers
bagging the kindlers
 The finished products are sold to members of the public and local coal companies.
Glendaveny garden project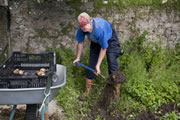 The Glendaveny garden project group maintain part of the grounds of Willowbank. Soft fruit and potatoes are grown, as well as plants in the Spring.
People taking part in the project can do various different tasks, such as:
cutting the grass
weeding
planting flowers
recycling and composting
making paper briquettes
Aden Country Park gift shop
The Aden Shop is a new partnership venture between the recently formed Friends of Aden Country Park and Willowbank day service. The shop is managed and administered jointly, with people who use the day service manning the shop Monday to Friday, and the Friends volunteers covering the shop at weekends.
The shop sells a range of items including children's toys, Aden souvenirs, CDs, books, and postcards, as well as a range of locally made arts and crafts including cards, bags, scarves, and jewellery.
The tasks that we are involved with at the shop include:
serving customers
using the cash till
stock taking
other numeracy and literacy tasks
general shop duties
washing the windows and hoovering
User involvement
We encourage people using our day service to make decisions, share ideas and have a say about the service they receive. You can be involved in the Amenity Fund Committee, the Coffee Bar Committee and service user meetings.
Amenity Fund committee
We receive donations from people and local businesses which are paid direct to the Amenity Fund. The Amenity Fund committee gives people who use the service the opportunity to say what they would like this money to be spent on to enhance the service we provide.
Coffee Bar committee
The Coffee Bar committee meets with the kitchen staff and feeds back comments from people using the service about the menus and snacks provided.
Service user meetings
Service user meetings are an opportunity to meet as a group with management and staff, to tell us what you like or don't like about the service, what new things you would like to do and to share achievements. They are held every second month.
Referral to the service
You can be referred to our day service as a result of an assessment of need and agreement of eligibility criteria. This is done by your social worker.
Once referred to the day service, the person who will use the service, their unpaid carers, guardian, social worker and day service manager agree what the placement is expected to deliver and by when. These are known as outcomes. Progress is monitored at reviews.
People who are referred to the day service are assigned a member of staff to be their keyworker.
The keyworker is responsible for making sure:
your outcomes for the service are identified and use appropriate resources
an Individual Service Plan (ISP) is agreed which meet those outcomes
everyone involved in the plan know their responsibilities
essential resources in the plan are available or developed
your agreed outcomes are reviewed regularly
you are involved in the planning and management of day services
parents, carers, guardians and advocates are involved 
Everyone using the day service will have at least two reviews a year. One is a multi agency formal review and is followed by an interim six monthly review involving the person using the service and their keyworker. A review is where you meet with all people providing your support and look at your program, your progress and your achievements and set your outcomes for the next year.
Contact
If you want to find out more, you and your carer can arrange to visit our day service. Please contact us to arrange a visit or if you have any further enquiries:
Willowbank Day Service (map)
Glendaveny
Peterhead
AB42 3DY
Tel: 01779 838301
Willowbank Day Service is assessed and graded by the Care Inspectorate for the quality of service we provide. The latest reports for Willowbank are available for you to download on the Care Inspectorate website.

---
Share this information