Occupational therapy assessment
View Social Care and Health privacy notices: 
How do I get an occupational therapy assessment?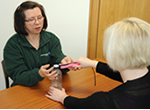 Anyone can contact us to request an occupational therapy assessment. This is called a referral. You can choose to do this yourself or you can ask someone to do this for you.
If you ask someone to contact us for you it is important that you give them as much information as possible about your difficulty.
To help us process your referral we may ask for the following information:
the reason for the referral – what is it that you are having difficulty with?
details of any medical condition – have you recently been in touch with any health services, such as a GP, district nurse, or health visitor?
how do you get around in your house?
have you any problems with continence?
do you live alone, and do you have any help at home?
who owns your house? - in case we have to organise an adaptation 
This information will let us prioritise your referral and make a decision about how quickly an occupational therapist can visit to carry out an assessment. 
Self-assessment for minor adaptations
You can request some minor adaptations to your home to help you keep your independence without the need for a formal occupational therapy assessment - this is called self assessment.
The Joint Equipment Centre service has produced a self-assessment booklet of minor adaptations with illustrations and descriptions of items which may help. You can download the booklet and self-assessment form here:
Or you can call the Contact Centre on 03456 08 12 06 to request a booklet and self-assessment form. 
Priorities
Due to the volume of referrals received by the service everyone who asks for an occupational therapy assessment is given a priority.
This is based on your circumstances and makes sure that people at most risk or with the greatest need are the first to receive an assessment.
Read more about the priority criteria.
What does assessment involve?
Before any services can be arranged or recommended an assessment will need to be carried out.
An occupational therapist or occupational therapy assistant will meet with you to discuss how you manage your daily activities, find out what your problems are and work out how we can help you solve them.
Occupational therapy assessments usually take place in your home.
Activities that may be assessed include:
Getting about
walking around the house
going up and down steps and stairs
getting in and out of bed
getting on and off a chair or toilet
using a wheelchair
Personal care
toileting
dressing
bathing/washing
feeding
grooming
Domestic activities
cooking
food preparation
cleaning
During the assessment we may ask you to show us how you do some of these activities so that we can see the difficulties you have, understand your problem and work out possible solutions that will make the activity easier for you and / or carer.
We may need to visit you more than once and ask you to repeat some of the activities using different methods or equipment.
The assessment process will take account of your opinions and those of your carer, if relevant. With your permission, we may talk to other people who help you, such as the district nurse or day centre staff. This is to make sure that our assessment gives a full picture of how you are coping and ensure you get all the help you need.
When the assessment has been completed, we will discuss with you the best options to help you. For each problem there is always more than one possible solution.  You will be involved in deciding what will suit you best.  It is important at this stage to consider whether your illness or disability is likely to improve, remain the same or get worse.
We will try and respond to your needs as quickly as possible. However, some solutions may take longer than others to provide. Your occupational therapist or occupational therapy assistant will keep you advised of the arrangements that are being made to assist you.
Contact our occupational therapy team for more information. 
Your views
If you have ever booked or received an occupational therapy assessment we are interested in what you have to say about the process. We value your views, they will help us improve our service. Please take two minutes to complete our survey.
---
Share this information