Occupational therapy service developments
Our occupational therapy service is continually developing to improve the service we offer you and in response to changes in legislation.
If you have ever booked or received an occupational therapy assessment we are interested in what you have to say about the process. We value your views, they will help us improve our service. Please take two minutes to complete our survey.
Recent and ongoing developments include:
 View Occupational Therapy and Joint Equipment Centre privacy notice (pdf 304KB).
Central referral point
We have recently moved to one telephone number across Aberdeenshire for requesting an occupational therapy assessment. This has extended opening times from 8 am to 6 pm Monday to Friday.
Please contact us if you would like an assessment.
Joint equipment service
All community equipment for Aberdeenshire residents is now bought, stored, repaired and decontaminated by the Joint Equipment Service in Inverurie. This service has been jointly funded by Aberdeenshire Council and NHS Grampian.
Please contact us if you would more information about this service.
Telecare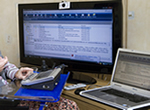 With the developments in technology there has been an increase in specialist equipment that can help support and maintain your independence in your own home. Telecare equipment can alert you when something needs your attention or alert others to help you when you need it. Community occupational therapists can now access funding to provide telecare equipment. There is a small charge this equipment. This will be explained to you by your occupational therapist.

Rehabilitation and enablement service
The Rehabilitation and enablement service has been created by Aberdeenshire Council in partnership with NHS Grampian. This is in response to the Scottish Government's Reshaping Care for Older People programme. The multi-disciplinary team of health and community occupational therapists, care managers, district nurses, physiotherapists, ward managers and home care supervisors will work together to help you keep or re-learn daily living skills and maximise your independence.
The key messages of rehabilitation and enablement are:
the approach changes the culture of home care away from task and time towards better outcomes
'doing with' individuals rather than 'doing to' or 'doing for' individuals
maximise a person's long-term independence and quality of life
appropriately minimise the ongoing support required and so reducing the whole life cost of care
individuals making the most of their lives
More information on the Reshaping Care for Older People programme is available on The Joint Improvement Team's website.

View Social Care and Health privacy notices: 
---
Share this information