Pleyfauld House Very Sheltered Housing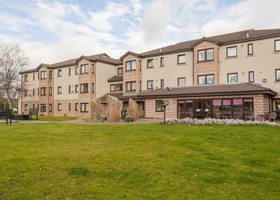 Pleyfauld House is a very sheltered housing complex set in a quiet residential area in Inverurie. It was a sheltered housing scheme and has been remodelled and refurbished to offer very sheltered housing support.
There are 32 self-contained flats, a combination of one or two bedroom flats. Each flat has:
gas central heating
double glazing
controlled door entry access
lounge
kitchen
bedroom
bathroom
The facilities at Pleyfauld House include:
a key fob security system to enter the main building
a homely lounge
daily choice of menus for lunch and supper
a laundry for tenants to use
24-hour emergency call system throughout
a guest bedroom for friends and family to use when visiting 
Care and support is available 24 hours a day, seven days a week based on your individual needs and choice.
We own the complex and are responsible for flat allocations, rent setting and collection, repairs and maintenance.
Contact
For more information about Pleyfauld House, or to arrange a visit, please contact the service co-ordinator on 01467 530735.
If you wish to apply for very sheltered housing you can do so through our housing portal.
---
Share this information