Glass bottles and jars
We don't provide glass kerbside collection, but householders can recycle glass in a number of ways. Find out more about:
How to recycle glass bottles and jars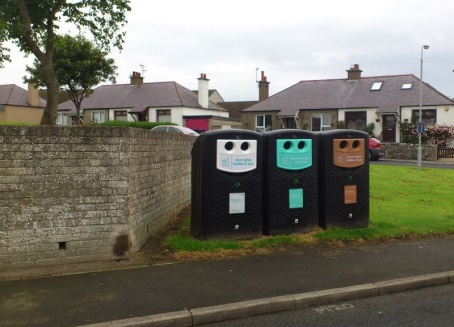 There are over 200 recycling points and centres, sheltered housing complexes and communal recycling points for flats. Recycling points are conveniently located in supermarket car parks, public car parks and other public spaces. These are in place to ensure we can continue to achieve high quality glass recycling. Whenever you can, try to take your glass bottles and jars with you when you go out to avoid making a special journey. Glass bottles and jars are considerably lighter when the contents have been used but together can be heavy, recycling your glass bottles and jars frequently makes it easier to do.
Following the change in the recycling service, we provided additional small neighbourhood glass recycling points to make glass recycling more convenient. These neighbourhood glass points contain 3 bins to keep the different colours of glass separate.
Community glass points are to serve the residents locally, they are not intended for wider public use as they are quite small. If you would like your location to be considered for an additional glass point, get in touch with Wasteline and we will contact you to discuss the options available.
Why we don't accept glass with other recycling
When glass collected from a mixed recycling system gets to the plant that sorts the different materials, a lot of the glass has been broken into pieces that are difficult to separate, and these pieces get further broken up into much smaller pieces during the sorting process. This makes the glass which comes out of the plant difficult to sort back into the separate colours which is needed for the glass to be made back into bottles and jars. 
Some material recycling facilities are able to separate some of the glass from the other materials and this is made back into bottles and jars, but a lot of the glass collected in a mixed system is not separated and ends up as aggregate, which is a lower quality recycling process as it is only recycled once when it is used to build something such as road building. By making the glass back into bottles and jars it can be recycled over and over again.
To maintain a high quality glass recycling system, we need to keep collecting glass separately as this allows glass to be recycled into different coloured bottles and jars over and over. The Waste (Scotland) Regulations 2012 say that the collection of glass in a mixed system is okay, provided the same quality can be achieved as through keeping it separate. As we cannot guarantee that the same quality can be achieved in mixed recycling we have decided to keep glass out of the mixed recycling system and are continuing to collect it separately from other recycling and colour-separated.
Limits on collecting glass another way
It would be possible to run a separate household glass collection, but this would be very expensive as a separate fleet of lorries would be required. The cost of providing a separate kerbside collection service for glass would be around £3 million a year.
Change to glass collections – impact on recycling rate and income
Glass formed a relatively small part of the old household box recycling collection. Only around 25% of the glass we recycled came from kerbside collections, with the other 75% coming from recycling centres and points and trade collections. Since the change to our collection systems there has only been a 4% reduction in the amount of glass we recycle. In the years before the change to our collection service, glass weights were falling marginally, most likely due to glass packaging being made thinner, it can now be up to 30% lighter, also alternatives to glass packaging are being used to make transportation weights lower. It is great news that we are still recycling almost the same level of glass as before the new service was introduced.
Why recycle glass bottle and jars
If you put glass in your waste bin, it will go to landfill with the other residual waste. Whilst residual waste may be treated to remove some recyclables, the majority of it still ends up in landfill, so please try to recycle your glass wherever possible. Not only is this better for the environment, it is cheaper to recycle than it is to landfill.
For more information on the method we use for glass recycling visit the Waste and Resources Action Programme (WRAP) website. 
---
Share this information