Fordyce Old Kirk and Kirkyard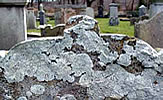 Both picturesque and atmospheric, this Kirkyard contains a wealth of monuments and grave markers spanning some 400 years – early 16th to early 20th centuries. The tower and belfry, as existing, are dated 1661 but are the result of alterations to heighten an earlier entrance porch on two occasions. The upper floor has been used as both a prison and session house. The room on this floor now contains a series of panels, providing an interesting insight to the village and those associated with it.
The medieval chancel contained the elaborate canopied tombs of the Ogilvies of Findlater and Boyne. The tomb with the recumbent effigy in armour is to James Ogilvie of Boyne and his son, dated 1510.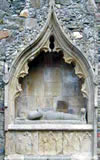 This enclosure was restored and the Findlater and Boyne tomb cleaned and repaired under the Aberdeenshire Historic Kirkyard project in 2006.
 Adjoining these enclosures is the roofed Abercromby Aisle. Constructed in 1679, this aisle contains the fine marble memorial to General James Abercromby of Glassaugh who was associated with the fateful Battle of Ticonderoga in the Seven Years War in North America.
The enclosure in the far corner nearest to the former manse contains a memorial to the Rev. A. Humphrey who was the last Minister in the Kirk here and the first in the new Kirk.
Christian worship took place on this ancient site for over a thousand years. It ended when the new kirk located on the west side of the village was consecrated in 1804. The church established on this site was dedicated to Talarican (Tarquin) who it is believed, was of Irish descent, came to these northern parts to spread the Christian gospel and in time was dignified as a Bishop in the Holy Roman Church by Pope Gregory.
Further information can be found in the leaflet Fordyce Old Kirk & Kirkyard (PDF 320KB) produced by Aberdeenshire Council.
Information regarding the survey undertaken in 1998 on Fordyce Old Kirk & Kirkyard can also be downloaded - Fordyce Survey Findings (PDF 87KB).
---
Share this information