Midmar Old Kirk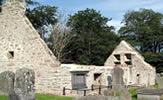 Midmar is one of those deeply interesting places where we can study the traces of its former inhabitants from remote prehistoric times.
The earliest 'Religious Centre' here is the stone circle on the site of the present Parish Kirk and Kirkyard on the North slope of the picturesque hollow in which the old Kirk was constructed in the latter part of the seventeenth century.
Christianity came to Midmar through St Kentigern and two Welsh disciples St Nidan and St Finan. The fact the medieval Parish Kirk carries the name of St Nidan provides a strong indication that it occupies the site of the first Christian Chapel erected around the seventh century.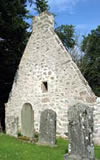 During Norman administration in the 12th and 13th centuries Midmar was established as a Parish along feudal boundaries, a church was built in the hollow a little to the South of the stone circle and immediately to the East of the motte with its timber palisade and tower. Between these lay a small community. Towards the end of the 16th century this early association of church and castle was severed with the construction of a new stone castle a mile to the South, around 1570, although the earlier timber construction would have fallen into disuse a considerable time earlier.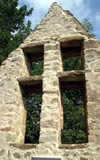 Straightforward and simple this old Kirk has the rare virtue of truth and quietness. Its elongated narrow plan makes it clear that it is constructed upon medieval foundations. In detail the little structure shows how near its builders were to the spirit of the Middle Ages. The delightful east window with its mullion and transom is entirely Gothic. The South elevation contains evidence of heightening in the middle portion consistent with the 'new vogue' of placing the pulpit mid way on this side of the Kirk following the final triumph of Presbyterianism in 1690.
The old Kirk rebuilt in 1677 remained on this site until it was replaced in 1787 by the present Parish Kirk, curiously returning to the original 'Religious Centre'.
Further information can be found in the leaflet Midmar Old Kirk (PDF 324KB) produced by Aberdeenshire Council.
Information regarding the survey undertaken in 1998 on Midmar Old Kirk can also be downloaded - Midmar Survey Findings (PDF 79KB).
---
Share this information