St Ciaran's Kirkyard Fetteresso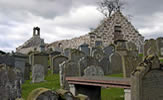 The surviving ruin is the 1720 rebuild of the earlier church (the medieval church was longer and had no north aisle). Internally, galleries were added at the east and west ends, and the pulpit was sited opposite the north aisle, where there was probably a vault and Laird's Loft. This created a T-shaped preaching kirk, with the focus changed from the east end (the altar) to the pulpit. The belfry is dated 1737. Re-used medieval stonework is still visible in the walls.
The recess on the inside of the south wall by the door is for a Stoup, a medieval holy water basin. On the outside of this door hung the Jougs, a metal collar used for punishment of moral offences between the 16th and 19th Centuries. Offenders were chained to the outside of the kirk for several services until brought in to sit on the Stool of Repentance and be denounced before the Congregation.
History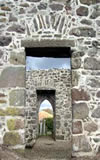 St Ciaran lived from 515-548 AD. He was an Irish monk, missionary to the Picts and the founding Abbot of Clonmacnoise monastery. The church was dedicated in 1246 by Bishop David de Bernham. It was the 'mother church' of the chapels of Cowie and Dunnottar. It would have been thatched and had an earthen floor. It's location on a knoll above the Carron water, inconveniently sited at the extreme south of the parish suggests the re-use of an earlier sacred site. No symbol stones are known from here.
Stonehaven became the county town of Kincardineshire in 1600. Subsequent population growth meant that the kirk was "old, inconvenient, and unfit to contain the congregation, when fully assembled together" according to the Minister, John Hutcheon. The New Kirk on Bath Street was duly opened in 1813. St Ciaran's fell derelict, but was rescued by the Duffs of Fetteresso who used it as their burial ground. The General Assembly in 1581 forbade the practice of burials within a kirk, but burials could still however be carried out in vaults, which formed part of an aisle adjoining the kirk.
Some relics from the Old Kirk, a carved panel from the pulpit, a Font formerly built into the wall, rediscovered during restoration works in the 1980s, and a graveslab are in the New Kirk. Other relics are recorded as being taken to Fetteresso Castle in the in nineteenth century.
Kirkyard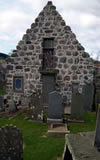 There are over 200 burials in the kirkyard. Some eighteenth century stones were engraved by a Mr Cresswell, a farmer "who could not form a single letter with the pen". There are many fine examples of dedication poems to be found in St Ciaran's kirkyard.
Information regarding the survey undertaken in 1998 on St Ciaran's Kirkyard can be downloaded - St Ciaran's Survey Findings (PDF 60KB).
---
Share this information