St Drostan's Kirkyard Insch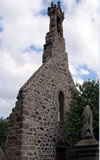 St Drostan was one of the twelve companions who sailed from Ireland to Scotland around 563 with St Columba. These twelve became known as the 'Brethren of St Columba'. St Drostan and his kin St Columba, following their arrival on the shores of Aberdour established a base for the introduction of Christianity into the North East near present day Old Deer, in Buchan, traditionally in the late 6th century. It was from there that Christianity was brought to Insch and the name of St Drostan remembered as a link to those far-off times.
In the 12th century the lands of Insch belonged to David, Earl of Huntington, who was a brother of King William, the Lion of Scotland. This family was of Norman stock arriving in Britain in the 11th century. As an offering of thanks for a safe return from a crusade David gave land for the maintenance of Lindores Monastery in Fife. In return the monastery provided a church in Insch.
During ground maintenance works in the latter part of the 19th century an ancient gravemarker or coffin slab was uncovered. Although the inscription has been damaged the characters indicate it is dedicated to a priest named Radulfus, a chaplain to the Bishop of Aberdeen. Radulfus is recorded as being a witness to a grant of land in Rayne to the convent of Melrose around 1172-99. If these dates are correct the slab is one of the oldest lettered monuments in Scotland.
The conservation of the Radulfus stone, the stabilisation and repair of the remaining gable together with the restoration of its bell-cot was undertaken through the Aberdeenshire Historic Kirkyards project in 2004.
Bell-cot

The beautiful and elaborate bell-cot is dated 1613 and contains the initials MIL - Minister John Logie. It was probably erected on a new Kirk of that date. This structure would have been remodelled and repaired on a number of occasions over the next 2 centuries. A new bell made by Gilbert Gely was added nearly a century later in 1706. This bell was removed to the Station Museum in Insch following the demolition of the old in 1882.
Historical Notes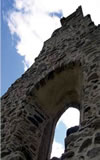 George Forsyth (b1826), a local master baker, placed bricks in his ovens every Saturday evening and on the Sunday morning placed them in or under the family pew - how grateful they must have been as in 1842 it is recorded that the Kirk interior was without plaster and a ceiling.
Two Aberdeen Silver Communion Cups presented to the Church in 1697 by a local farmer John Rose are still used in the Parish Kirk today.
Following the 'Disruption' in 1843, when parishioners throughout Scotland broke away from the parish or established Kirk, those in Insch built their 'free' kirk on land across the road on the site now occupied by the Fire Station.
Information regarding the survey undertaken in 1998 on St Drostan's Kirkyard can be downloaded below.
---
Share this information