myAberdeenshire mobile app
We have developed a mobile app that allows you to access council services on the move. You can use it on a smartphone or tablet to:
Get notifications about bins and recycling services
Get reminders when your bins are due for collection and what goes in each bin type
View your nearest recycling centre and check what you can recycle
Get reminders about school holidays
Get notifications for unexpected school closures and incidents affecting the school
View current council jobs
View council news
View local events
Check Council Tax band based on your address and view your annual charges for Council Tax, water and sewage
View your local councillors' details as well as all Aberdeenshire councillors
View grit bin locations
Make grit bin requests or report damage to a grit bin
Check which routes will receive gritting treatment
Report road and street light faults
Report fly-tipping
Contact us about council services or to request support for the mobile app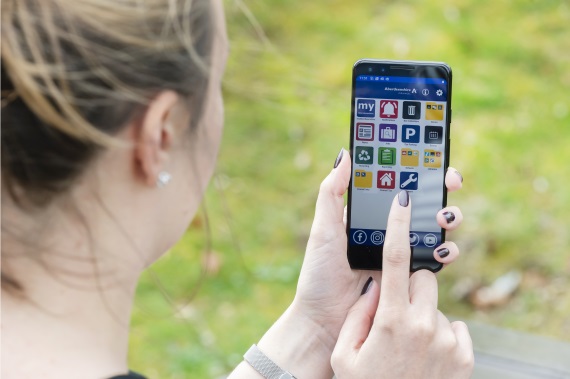 ---
Push notifications and location based services
When setting up, allow the app to send push notifications if you want to set reminders for your bin collection and school closures.
For location-based services (such as maps) you will need to allow the app to access your location using GPS.
---
What we do with your information
We will not store the information you supply or use it for marketing purposes. View the myAberdeenshire mobile app privacy notice (PDF 126KB). 
Feedback and support
For our mobile app related feedback and support you can contact us by selecting the Support icon in the app and choosing 'Mobile App'.