Dawson Court respite flat
Dawson Court is a modern, purpose built very sheltered housing complex in Turriff for older people and people with complex care needs.
A flat at Dawson Court is furnished to provide a short break respite service, so we can work out if there is a need for this facility.
Short break respite accommodation gives you the opportunity for a relaxed and enjoyable break away from your normal routine, with the support and care you need.
There are various reasons why you may wish to make use of a short breaks or respite facility, such as:
you, your carer, or family may need a break or holiday
an occasional break may help you feel more able to stay in your own home
the flat can be used to sample life in very sheltered housing if this type of accommodation would be more suitable to your needs
The flat is self-contained and spacious. It has its own front door giving you independence and privacy during your stay. It is attractively furnished and is close to the lounge and dining facilities.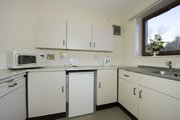 The accommodation includes:
lounge
bedroom
bathroom (with shower area)
fully equipped kitchen, including microwave, fridge, toaster, kettle, crockery and cutlery.
The flat is also suitable for people with disabilities. There are separate bathing facilities within the complex to cater for a range of needs.
Facilities and support
The facilities and support available at Dawson Court include:
experienced staff
call bell system, if you need help
24 hour emergency assistance
breakfast, lunch and tea each day
day care centre with services available seven days per week
specialised bathing facilities
laundry service
large spacious lounge and dining room overlooking landscaped gardens
social, recreational and educational activities
You are encouraged to be as independent as possible during your break and are welcome to take part in the regular social activities.
Additional support and care
Care arrangements are planned before your arrival. If you live locally and already have a Home Carer, it may be possible for that carer to provide your care while staying at Dawson Court. Help from Health Care staff can also be arranged.
Staff can help you and your family in carefully planning and organising the correct amount of support and care to make your stay in Dawson Court enjoyable and relaxing.
Cost
There is a charge for using the flat. This is set at an affordable level to encourage people who need short break respite to make use of the facilities at Dawson Court.
Contact us
If you are interested in short break respite at Dawson Court a Care Manager can visit to discuss your needs and make sure this service is appropriate. The Care Manager can arrange for you to visit Dawson Court to look around the complex and the short break respite flat.
For more information, to find out the cost of using the flat or an informal chat please contact the Service Coordinator on 01888 530865.
Dawson Court
Victoria Terrace
Turriff
AB53 4FP
---
Share this information