Doocot View respite flat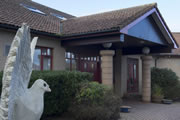 Doocot View is a very sheltered housing complex with an attached day care centre in Banff.
We lease one flat for use as a short term respite facility. It is available for use by older people, people with learning and/or physical disabilities and people experiencing mental health difficulties.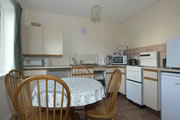 The respite flat is self-contained. The accommodation comprises:
sitting room
two bedrooms
bathroom
fully equipped kitchen - with cooker, fridge, microwave oven, kettle, toaster, cutlery, crockery and cookware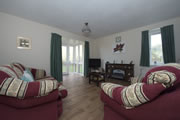 The sitting room is furnished with a sofa, incliner chair and recliner or riser chair. A television, video recorder and a hi-fi unit are provided.
The larger of the two bedrooms is fitted with large built in wardrobes, twin beds, a dressing table, portable television, bedside lamp, lamp and clock. A variety of aids can be made available to meet the needs of the individual user.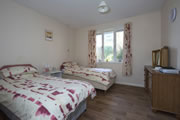 The small bedroom also has a built-in wardrobe, but is only furnished with a single bed.
Both bedroom doors are lockable and the key to both doors are handed to the occupier on the date of arrival.
The bathroom is fitted with a bath, toilet and hand basin. The floor is covered with a non slip surface and several hand rails. Other aids have been fitted to support the needs of the individual.
Outside the flat, but within the Doocot View complex, there is a shower room fitted with an electric shower and 'Parker' bath. This facility is available for use by the occupant of the respite flat.
You can choose to have your meals in the flat or can opt to have a mid-day meal in the communal dining room.
There is a payphone in the corridor exclusively for use by the occupant of the flat.
Also available is the laundry facility, which is equipped with two automatic washing machines, two tumble driers, a twin tub, rotary iron and a steam iron. There is also a clothes line outside the laundry. The laundry is available for use from 8am to 12 noon and 3pm to 10pm.
Occupants of the respite flat are also welcome to join other Doocot View tenants in the communal television lounge during the evening.
Use of the flat can only be arranged through a Care Manager, Occupational Therapist or other Social Work agency. This should normally be planned well in advance, although in certain circumstances, emergency admittance can be arranged. 
If you would like more information about the short break respite flat, or Doocot View in general, please contact the Service Coordinator on 01261 455570.
Doocot View
St. Combs Court
Banff
AB45 1GD
---
Share this information