School Travel Plans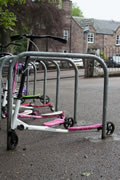 The following guides are designed to be used for schools to help with the development of a school travel plan (STP). It contains information on what should be included, why every school should have one and where to begin.
All the work associated with School Travel Planning has been designed to fit into the Curriculum for Excellence (CFE). View the CFE outcome for clear information on how this works. 
View School Travel Plan guide (pdf 5.19MB).
Education resources
The council, with support from their schools have designed a resource pack (pdf 1.48MB) on the themes of safe, active and sustainable transport. This provides an in depth and clear guide for those who wish to incorporate active and sustainable travel messages into lessons. Lessons are grouped under themes, age groups and show links to the curriculum. View our lesson plans.
Consultation
It is important to consult with school user groups when developing your STP. A good way to do this is by conducting surveys. Surveys are a useful tool to gather information and allow school users to feed their opinions into the Travel Plan. These will help form up what the problems are and then what actions need to be driven forward. 
View example questionnaires:
It can be useful to include a map of your school's catchment for certain surveys asking school users to identify their concerns. For maps, please contact your School Travel Planning Officer. 
Examples of School Travel Plans
Below are some examples of School Travel Plans that have been produced by Aberdeenshire Schools.
There is no right or wrong way to write a STP. Each plan will be tailored to each school's individual set of circumstances.
The following questions should be considered when writing your plan.
1) Who is it you hope will pick up and read this plan? (e.g. pupils, parents, local council officers in relation to funding, local councillors)
2) Will they understand what a school travel plan is and what information will be relevant to them?
3) Why are you writing this plan and what are the key messages you want to get across? (This information needs to be clearly stated in your  plan above everything else)
4) Who will be in charge or reviewing the plan and can the aims you set be measurable?
Feel free to use the template below to help you get started. Please note that this is only intended as a guideline. You may wish to add or remove certain sections to suit your school. Many schools prefer to create a child friendly travel plan. It has been proven this type of design will more likely be picked up and read not only by pupils, but parents as well.
View School Travel Plan examples:
View School Travel Plan example templates:
Every school should have a School Travel Plan. This should be included within school induction packs, available on the website and form part of the school policies and producers. 
Contact
You can contact us by emailing transportationstrategy@aberdeenshire.gov.uk or by calling us on 01467 536929. 
---
Share this information